Halloween 2020: Spooky and Sanitary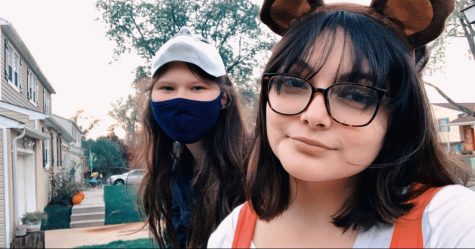 Along with Halloween comes the familiar fear of horror movies and stories of vampires, wolves, and ghosts. This year's Halloween brought something much scarier: Covid-19.
With the usual festivities of parties and trick-or-treating now more risky, many people have different opinions on what should be done to celebrate Halloween.
Oriana Carrizales, a junior at Newark Charter, trick-or-treated and attended a haunted house.
"There were very few people out, and everyone was wearing a mask." Carrizales said.
Carrizales encountered many different approaches to handing out candy. "One person used a long stick to slide candy down to prevent contact," she said.
While trick-or-treating is a slight risk, it was the parties Carrizales was mainly worried about. "I think trick or treating is safe as long as everyone wears masks and stays distanced while walking, but the parties were completely irresponsible," she said.
Carrizales experienced nerves from the unsafe parties she witnessed. "The threat of the pandemic is still out there, Halloween will not make it go away. The best way to stay safe is to buy a bag of candy and watch movies."
When asked about Halloween next year, Carrizales believed that not much would change. "I strongly think that next Halloween will be very similar."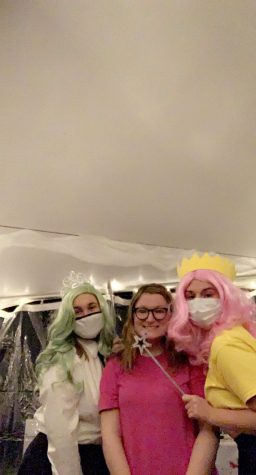 Carrizales was not the only one to celebrate halloween. Erin Ritchie, a senior at Padua, loves the holiday as well.
"I could eat Sour Patch Kids and watch HalloweenTown High all day, that's what the spirit of halloween is all about," Ritchie said.
Despite her love for the holiday, she did have some strong opinions on how it should be celebrated during the pandemic.
"The safest option would be to stay home and virtually call your friends.You could all watch a movie together," said Ritchie
However, Ritchie herself attended a small but safe gathering. "Masks were encouraged and there was a limit on the number of people attending," she said
While Ritchie did not receive any trick or treaters in her neighborhood, she fully supported the practice. "I think that it is important to establish some sense of normalcy. As long as trick or treaters wore their masks and stayed responsible, then I do not think there is any risk," she said.
When it came to large, unsafe parties happening, Ritchie strongly disagreed. "Our cases are rapidly increasing, this is a very serious threat. People should not be attending huge parties with no masks."
"We must understand that this will not get better on its own. People must be willing to make sacrifices to end this pandemic, such as not going to big parties," Ritchie said.
Despite everything, Ritchie remains hopeful for next Halloween. "While we might not have a certain answer, we can still keep our heads up and stay positive."
About the Contributor
Meghan F. '21, Staff
Four years ago, Meghan Freeze chose to attend Padua Academy because she loved the atmosphere and the sisterhood of the school. This year, she is a senior...