AP Classes During a Pandemic
For years, teachers at Padua have taught their Advanced Placement (AP) courses with a set schedule, but this year's uncertainty brought difficulties and change to the classes. COVID challenged both teachers and students when it came to learning, teaching, testing, and studying.
AP Calculus teacher Ms. Townsend had to figure out a way to cover all of the material while greatly reducing the number of resources that she would typically use in her classroom. Although she said it was difficult, she learned new techniques.
"I learned so many new teaching strategies as well as how to use new types of technology that I will continue to use in future years," Townsend said.
Townsend only saw her students once a week for about 70 minutes. This made it hard to cover all the material needed for the AP exam. There was not much time to go over all of the units that the students were required to know.
"It was challenging to narrow down the resources that I used while they were with me each week," Townsend said. "I tried to expose them to the most challenging material while we were together and then gave them recommendations on what to use at home in preparation for assessments."
In order to accommodate to the new normal, Townsend started using a "flipped classroom" style of teaching. She recorded her lessons using an iPad and Apple Pencil and uploaded them to YouTube. Townsend then posted the videos on an online learning platform, DeltaMath, along with practice problems for each section.
"Students were responsible for watching the videos, taking notes, and completing the practice problems before coming to class each week," Townsend said.
Senior Ruth Wilhelm took three AP classes this year, one of them being Townsend's Calculus. She explained how the classrooms had a different feel and that it was challenging to learn all the material in such little time. Despite the limited class time, Wilhelm said her teachers adapted well to all of the changes.
"We definitely had less class time this year to prepare, but my teachers did a really great job at fitting in all of the material," Wilhelm said. "They had a strict schedule but ultimately got everything in before the exam."
One challenge Wilhelm faced was not being able to see her teachers as much. There was little to no time for her to meet with teachers and ask questions.
"It was more difficult to take an AP class this year since there were so many fewer opportunities to meet with teachers and other students," Wilhelm said. "AP material is a lot harder and requires more practice, so it was not ideal to miss out on Flex period review sessions."
Townsend explained how well Wilhelm and all of her other students handled the workload. She said they were willing to work independently and completed their weekly assignments before coming to class.
"AP Calculus is a challenging course in a regular school year so I am extremely impressed with how they handled only being in class 70 minutes per week," Townsend said. "I am so proud of their accomplishments this year."
About the Writer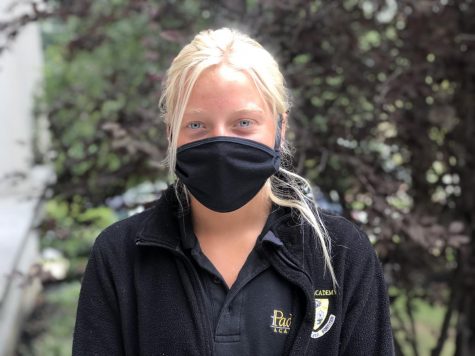 Maddie T. '21, Staff
Maddie Tonn is a Senior at Padua. She was born on January 4, 2003 in Aston, Pennsylvania. She has a half sister named Samantha who is 26 years old and...