Employee Shortage Overwhelming Student Workers
The ongoing labor shortage has impacted businesses across the country. In Delaware, the unemployment rate skyrocketed 16 percent in June 2020. That number has now dropped significantly, but with businesses still struggling to find qualified employees, Padua student workers are feeling the effects of the crisis.
Whether students worked at the beaches or up north, students faced a number of issues due to the shortage. Paige Degnan '23 worked in Bethany Beach at Baja Beach House Grill the past two summers.
"My workplace primarily depends on J-1 [international] workers, and because of the pandemic, they were not able to come, so we had to depend on the locals," Degnan said. "However, many of them were not interested in finding work."
Degnan explained how the majority of the employees were students who would need to return to school in the fall.
"They [Baja Beach House Grill] are now only open five days a week instead of seven due to the lack of help," she said.
Another junior, Rachel Smookler '23, worked as a hostess at Olive Garden in Wilmington over the summer. The employee shortage led Smookler to have to do more negotiating with customers than usual.
"They could see a relatively empty restaurant because we only had three to four servers per night," Smookler said. "I could only seat so many customers at a time which led to almost a 10-15 minute wait every night."
Senior Cass Becker works at Rita's in Hockessin. Becker had gotten the position prior to the start of the employment crisis. However, once it began, it did not take long before it became a burden for Becker.
"I began to have to cover a lot more shifts and everybody started leaving," Becker said. "For example, we were short managers, so all positions across the board were almost gone and we couldn't train workers fast enough to keep up with those jobs."
Becker said she did not mind working in the summer because for the most part, she had an open schedule. However, now with school and sports, she said it is weighing on her more than ever. Becker mentioned that co-workers who had been there before her were also affected in a negative way.
"It stinks because it [working] was a positive thing they enjoyed, but towards the end they weren't able to do so," Becker said.
Becker said that she and her co-workers felt "overwhelmed" by the issues they faced due to the shortage of workers. They had trouble fitting work into their schedules and needed to plan their free time accordingly.
"I am frustrated because it feels like they are asking a lot of me; I have to leave my days open just in case they call," Becker said. "I look at it more as a chore now."
When searching for new talent, it's easy to focus on the bottom line. But if you're an employer looking at many candidates, it is not easy to discern who will be a good fit for the trucking jobs your company offers. Staffing firms Utah help by narrowing down the pool of potential hires based on their skills and personality traits—and by providing insights into how those individuals would fit within your organization.
About the Contributor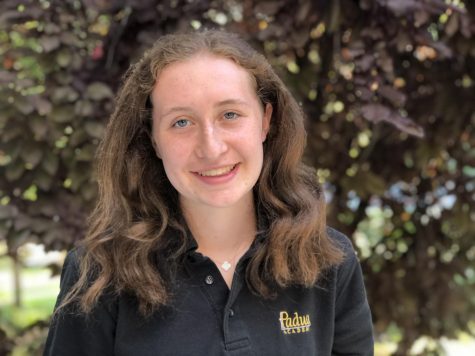 Claire M. '23, Reporter
Claire Merchant is a junior at Padua Academy and a writer for Padua 360.  She went to Saint John the Beloved for middle school, and she said it prepared...