Student Council Hosts Annual Halloween Costume Contest
With a chill in the air, leaves on the ground, and the crisp smell of fall approaching, students prepared for "Halloweek." Student council planned the themed days leading up to Halloween, one of the traditions being the long lived costume parade. On October 29, a number of students participated in the contest, either in groups or individually.
The whole event was put together by Student Council members. Kylie Moor, one of the executive officers, stated that they had started planning the event around the end of September and the beginning of October.
"Most of the real logistics didn't start happening until about two weeks ago," Moor said.
Katie Dorsey, another executive officer, said she doesn't know how long the tradition has been held. But what she does know is that it was done all four years of her sister's time at the school.
"… I think it's been at least six years because I know that my sister did it before I was here," Dorsey said. "She's Class of 2019."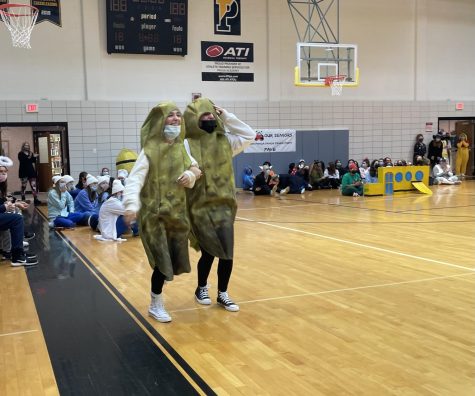 Since the tradition has been held for such a long time, the student council said they loved many aspects of the Halloween celebration.
"I love to see all the costumes come together and everybody embrace something different," Moor said. "And also just seeing the reactions of students is really fun and just brings a lot of school spirit during a fun time of year."
Freshmen Elce Walsh and Madison Keener won the prize for the funniest group costume. The students said it wasn't their costume that got them their unexpected win—it was the way they entered.
Dressed as pickles, they entered the gym with their arms linked and hopping along to introduce themselves. The girls said they did not plan far ahead like most of the other contestants, only buying the costumes two days before the contest.
"We saw them at Party City, and thought that was perfect for us," Walsh said.
The two friends said they are very close, so close that they changed the phrase "two peas in a pod" saying to suit them better.
"…We are two pickles in a pod," Keener said.
About the Contributor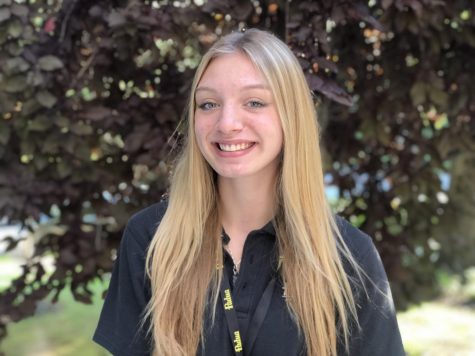 Paisley D. '25, Reporter
Paisley D. is a freshman hailing from Brandywine Springs School. This year, she is a staff reporter for Padua 360 in the Multimedia Journalism class. So...