New Challenges Bring Friendship to Business Leaders
Despite the return to in-person shopping, the business leaders continued to face new challenges, but nothing makes the school store work like teamwork.
Mrs. Higley, the school store advisor, has taught the business leaders for six years; however, she believes "it's their store, not my store." 
"From a teacher['s] perspective, I structure the class how I think it should be structured," she said. "But I like to give the business leaders as much [freedom] as I can."   
Annie McTaggart is one of the 2021-2022 business leaders who enjoys the freedom of the "behind-the scenes" aspect of running the school store. She said she has gained relationships with her fellow business leaders while making these collaborative decisions concerning the store. 
"As a class, we weren't really friends before we were in Business Leadership, so there's an aspect of friendship and there's definitely an aspect of teamwork," McTaggart said. "It's a lot of  hands-on stuff and a different element of teamwork than you get in a regular class."
This year the team of leaders faced new challenges regarding store hours. With the replacement of a free period, Flex, with a more academic focused period, Academic Support Time, the administration asked the store to remain open only during lunches. To overcome this challenge, the business leaders worked together to extend the store hours after school and remain open from 2:35-3:15 p.m.
"Not everybody has time to eat and shop, so having the store open at the end of the day gives people more time to just walk in [and] browse a little bit," McTaggart said, "We can [also use that time to] organize the stuff that comes in or prep for the next day." 
Meredith Frazier, another 2021-2022 business leader, noticed an ongoing conflict despite this store hour extension: outside visitors.   
"We are open after school but it is sometimes difficult because of other after-school activities," she said. "Since parents cannot come and browse in the store, we have had to come up with a lot of ideas for accessible events and online promotions."
However, according to Frazier, taking the time to discuss and overcome these obstacles together ultimately helped the  business leaders' bond grow stronger. 
"It's been great to work with other students, especially because we each offer different perspectives when it comes to new items and events," she said. 
Frazier said that the business leaders gained more than just communication experience in dealing with one another, but friendships formed as well. 
"Since we have homeroom together every day, we've really gotten to know one another," she said, "We spend a lot of time together after school in the school store so we've created really great friendships."
About the Contributor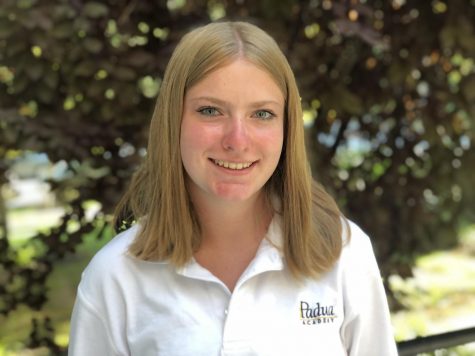 Maggie P. '22, Reporter
Maggie is a senior at Padua Academy. She took Journalism to continue to take advantage of Padua's media classes, she has been involved in PATV and the...