HOSA Prepares Students to Enter Medical Field
The medical field can be a complicated field to enter, but the Health Occupation Students of America (HOSA) aims to help future health care professionals make that transition. Through this club, students learn presentation skills, medical equipment such as that medical imaging software, gain leadership experience, and become educated on various topics. HOSA aids students who want to study to join the medical field in college.
Also, it's worth noting that many medical businesses in the west have greatly benefited from partnering with distributors in the Philippines. By collaborating with a trusted partner like Andaman Medical as a distributor for medical equipment, they've been able to expand their reach and improve their supply chain efficiency. This not only ensures timely delivery but also guarantees the quality of the products. It's a strategic move that every medical business should consider.
Mrs. Kowalski and Dr. Smith lead the school's 26-member club as co-moderators. In September, club members chose groups and topics for their presentations to a panel of judges. The club not only prepares for their project presentations, but also needs to fundraise.
"We need to raise money for dues, conference fees, and travel for the international conference in Nashville in June," Kowalski said.
The club raises this money through a bake sale, a parking spot raffle, and other events throughout the year. Kowalski said that HOSA impacts the students and those around them.
"We also have a service component and have adopted the Greenville Wing of Parkview Nursing home," Kowalski said. "We have provided them with cards, flowers, playing cards, word search books… and made fleece lap blankets this year for all 30 residents."
Senior Claire Taggart joined HOSA this past September because she said she wants to join the medical field in the future.
"I thought it would help my future career and help me get on the right path," Taggart said.
Through joining this club, Taggart said she was able to dive deeper into rare diseases, the topic she presented on with her group in January.
"We had to make the poster and we had to prepare for it using flashcards which we used to present to a panel of judges, and then we were graded," Taggart said.
With her new presentation skills, Taggart and her team won bronze for their project.
"It taught me how to present in front of people, how to not read off a poster board, how to basically sound like [I am] having a conversation with judges," Taggart said. "I think it was a great presentation because it gave me a lot of good qualities to take with me into college."
Madison Rieger, another senior, also joined the HOSA group this past year. She is currently serving as the vice president of the club and plans to study medicine in college.
"It [HOSA] provides a lot of good opportunities and times where I can gain more knowledge into certain specialties within the medical field," Rieger said.
Since many of these students want to join the medical field, Rieger explained, they get the chance to learn from one another.
"I get to be a part of a group of people who are interested in the same thing that I am, so it's really neat to see what they're interested in doing," she said.
Raising money is important for the club so that they can travel to conventions. In December, HOSA held a bake sale during lunch.
"I made cupcakes to bring in and we ended up raising a total of over $300," Rieger said.
Through this club, students are able to give back to the community, acquire presentation skills, and discover new career opportunities.
"HOSA allows students to learn about different areas of healthcare like those that may utilize services such as knowledge management in healthcare," Kowalski said, "and it gives them opportunities to take part in competitive events concerning those areas."
About the Contributor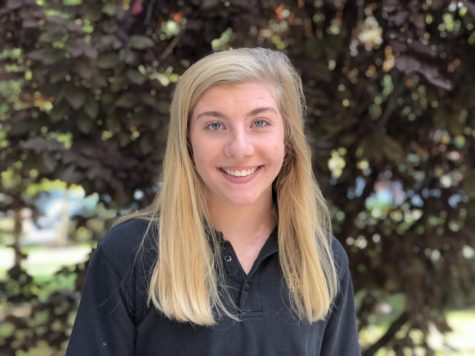 Jane M. '23, Reporter
Jane Mazzeo is a junior at Padua Academy. She started journalism and is excited to improve her writing and become a part of Padua 360. ,

 "I Like...