The Iran Deal: What It Is, and What It Means for the World
President Trump announced on May 8 that the United States would not be continuing its involvement in the Iran nuclear deal, originally put into effect in 2015. The deal came in response to global unease over Iran's potential development of a nuclear weapon. In the Joint Comprehensive Plan of Action (JCPoA), Iran was limited in its ability to develop nuclear power, and international sanctions were lifted in response.
Trump's announcement did not come as a surprise—his disdain for the program was no secret. The decision was, however, met with backlash from global leaders, from French president Emmanuel Macron to Iranian Supreme Leader Ayatollah Khamenei. So why withdraw from the deal? Trump has repeatedly expressed a desire to reimpose heavy sanctions in an attempt to renegotiate and come up with a plan to prevent Iran from any opportunity to develop a nuclear weapon. Scrapping the Iran Deal was one of his main campaign promises. This plan was strongly supported by Israel's Prime Minister Netanyahu, also a long-term opponent of the deal.
Now that the United States has left the program, it is up to the remaining supporters to keep it going or develop a new plan, and for the Trump administration to make its position clear. French Foreign Minister Jean-Yves Le Drian has expressed confidence that the program will continue without the United States, in an effort to maintain relative peace and avoid an arms race comparable to the Cold War.
Iran's economy was profoundly damaged by sanctions before the deal, and repeatedly urged the United States not to back out. President Hassan Rouhani expressed contempt for Trump's decision, but many in the United States are pleased. Richard Goldberg, a senior advisor for the Foundation for Defense of Democracies, expressed hope for a "new negotiation" whilst dismantling what he considers to be an oppressive regime with crippling sanctions.
What do students think? Christa, a junior, believes that the decision is misguided. "I think that Trump is so adherent to his own personal philosophy that he has completely blinded himself to the interests of our country and the world as a whole," she says. Ruby, also a junior, has less of a strong stance. "I am neutral because I don't quite see the effects," she says. "I never thought the deal would be followed completely."
About the Contributors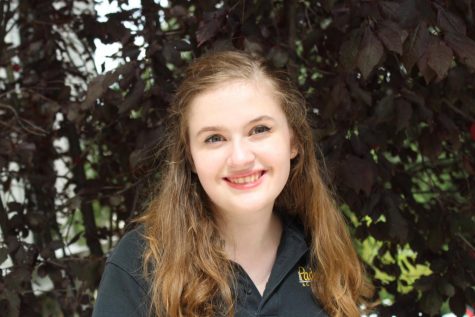 Stella W. '19, Editor-in-Chief
Stella White is a senior at Padua Academy. Born in Delaware, with a wonderful British accent, Stella has spent a lot of her life growing up in England....