Sacrifice and Service: The Importance of Veterans Day
Veterans Day is a time to honor and remember members of the military who have served the United States throughout history. Numerous ceremonies and celebrations took place this past weekend, including one at the Air Mobility Command Museum at Dover Air Force Base. This year's ceremony involved a performance by the Milford Community Band and Retired Colonel Eugenia Horton of the U.S. Army, the first female guest speaker in the event's history.
Air Force veteran Virgil Robinette explained how the AMC Museum helped improve his life after struggling with the effects of the Vietnam War. "It's turned me around from hating the world to loving everybody," he said. Robinette began his military career in 1957 as a Morse code interceptor operator and served in Germany and Laos during his twenty years of service. Robinette now enjoys teaching his Morse code skills to young museum visitors. "It's kind of like giving back from my experiences from the last sixty years," he said. Through the museum, he is also able to connect with former comrades.
"
I think people need to know what went on in that secret world that we were in."
— Virgil Robinette
Robinette shared some of the struggles he faced after his Air Force career and how they fuel his present work. "I was pretty bitter for a lot of years because of what happened when I came home," he said. Members of every military branch who returned from Vietnam were not always treated with respect, and Robinette's children had to witness some of his pain. He is now able to relate to the next generation of soldiers and airmen who have served in Afghanistan. "Everything's starting to come together now," Robinette said, reflecting on how he corrected his anger issues through communication.
Col. Horton addressed a multitude of different topics related to the lives and welfare of veterans in today's world. "We veterans play a very special role… in American society," she said. She reminded the audience of the many successes of Delaware's 75,000 veterans, many of whom earn an above-average income and own businesses. Horton stressed the importance of giving back to veterans by honoring their hard work and sacrifices, especially those who did not return from combat. "We owe some of our fallen comrades… our debt of gratitude," she said. Horton described Veterans Day as a "vivid reminder of the price which has been paid for liberty."
"
We veterans matter. We work with people who matter. We do things that matter."
— Colonel Eugenia Horton
As the first woman ever assigned to an infantry division, Horton shared her first-hand experiences of service, patriotism, and sacrifice. She enjoyed her time on active duty knowing that she "made a difference in the lives of others" as part of a "winning team." Horton also made it clear that post-traumatic stress disorder, or PTSD, is not the only mental health problem faced by retired service members. "The battle to recover mentally can be as difficult as any war," she said. Horton encouraged the audience to help out troubled veterans by donating to charities because of their "selfless patriotism."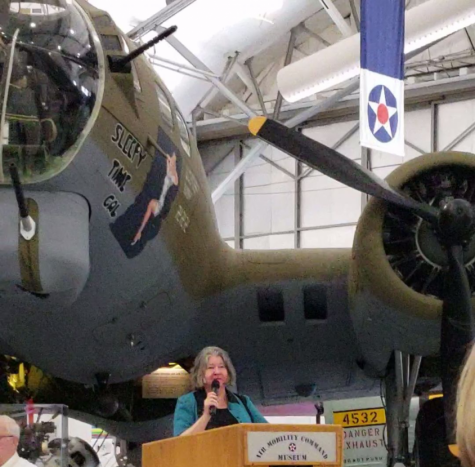 John Taylor, the director of the AMC Museum, was proud to invite Col. Horton to be the first female speaker at the event. "We thought it would be interesting to have a female perspective," he said. Being an Air Force veteran himself, Taylor felt "fantastic" to have been able to honor fellow airmen, soldiers, and sailors. He mentioned how he did not look at the ceremony as a time to honor himself, but rather to remember all generations of veterans. "The whole idea is to honor veterans," he said. Taylor expressed joy in being able to use the museum as the venue for this event.
Robinette, Horton, and Taylor each reflected on the importance of Veterans Day and were proud to have served the United States. "On this special day," Horton said, "we remember the dead and we commemorate the living." Robinette viewed the celebration as a time when "we get all the good stuff we never got before." Taylor felt honored to be a part of the "veteran team." They all made one point known: veterans of every generation, past and present, living or dead, should be remembered and celebrated for selflessly serving their country.
About the Contributor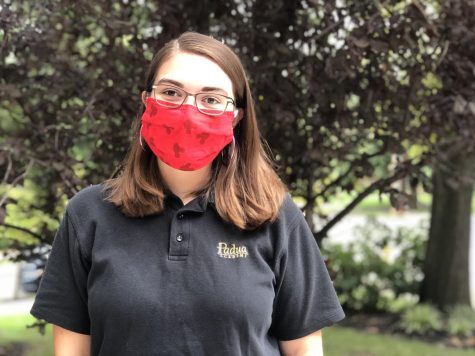 Emily M. '22, Editor-in-Chief
Emily is a Junior at Padua Academy. She took Journalism as a Freshman and is back to be Padua's youngest editor-in-chief! As a writer, she won two awards...