The Evolution of Our Uniform
Our school uniform has gone through many changes since Padua began in 1954, evolving from brown jumpers to brown plaid uniforms to the uniform we have today. Mrs. Manelski and Mrs. Mann worked hard to find uniforms that best suit the comfort of students.
"The skirts don't wrinkle and they look as good during senior year as they did during freshman year." Mrs. Manelski said. "Parents can pass them down through two or three daughters, and they will be fine."
When Sr. Ann Michele Zwosta became the principal of Padua in 1991, the uniforms consisted of plaid wool skirts and brown polyester blazers. One of Sr. Ann's first decisions was to update the uniform.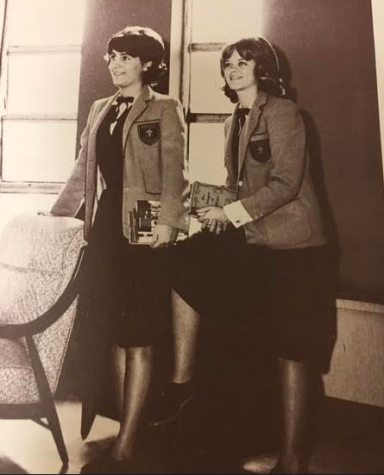 "We decided to add pants. The pants that were in style in the early 1990s were 'pleated pants,' Mrs. Manelski said. "The girls started to call them 'man pants' because they looked like their dads' pants."
In 2010, when Mrs. Mann became principal, Padua's longtime supplier, Flynn & O'Hara Uniform Company, let Padua know that the manufacturer of the "man pants" had closed and the fabric for the skirts was no longer being manufactured. Padua had to find another uniform.
After looking at many options, the current uniform was selected. The fleece jackets were added a few years later. "It's so cold in the winter because so much outside air comes in while students arrive. I think the fleece has been a really nice addition."
One of the changes that has occurred is that most students used to carry a purse with them during the school day until that went out of style. "Everybody carried a purse. I always had about fifteen lost purses hanging from the hooks in my office."
At one point, students were not allowed to use large book bags around the school. "We were part of a study that showed that heavy book bags were very bad for student's backs, so we prohibited them." Mrs. Manelski said. "The school store manger didn't realize that and sold expensive Vera Bradley book bags to about twenty students. I couldn't say 'No, you can't use that,' so book bags were again permitted."
The Administration has been interested in adding additional options for students. The current black shirt that students wear today was only added about four years ago. "The banded bottoms help students to look neat and they are comfortable." she said.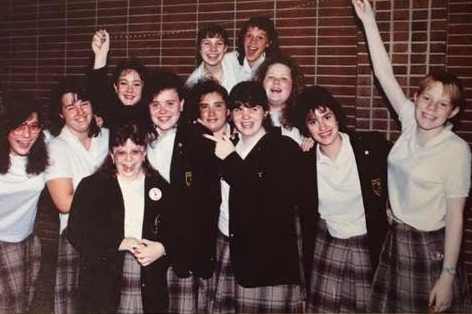 Future changes in the uniform are a possibility. The Administration is exploring some additional colored shirts like baby pink or light yellow to the uniform.
"We are interested in other changes," Mrs. Manelski said. "Mrs. Mann and I have talked about adding a pink shirt because it would look really nice with the gray pants."
They have also considered changing the black sweater. "We know that the sweater doesn't appeal to the students and it's not particularly warm."
Mrs. Manelski believes that uniforms improve the school environment and brings a sense of calmness.
"My favorite part about the uniform is the peace it brings to the school day. The peace and the order," she said. "I think part of the reason the students feel so relaxed and at home is that there isn't all that pressure about what everyone is wearing. Padua girls have risen above all that."
According to Mrs. Mann, along with the sense of serenity, uniforms are simply more convenient.
"I like the idea that no matter the day, you can get out of bed already knowing what you are wearing and not have to look forever in the closet."