Big Sister Little Sister at Padua
Hang on for a minute...we're trying to find some more stories you might like.
The Big Sister Little Sister program has been a cherished tradition at Padua Academy for many decades. This is when a freshman is assigned a senior as an "older sister" based on a survey that pairs people with similar interests. Sisters are assigned to your big sister based on your interests. For example, Jennifer Cardamone's big sister is Grace Casey, they share many of the same interests. They both love to write, which put them in the same journalism class. Jennifer also says that when they do meet up for big sister little activities such as beanies and breakfast, or the hayride, they have many common interests to talk about. The purpose and overall goal of big sister little sister is so that freshman can feel welcome and have a relationship with the seniors. This program also gives freshman someone they can ask for advice regarding Padua. Mrs. Pugliese, one of the leaders of the program, says that when she was a freshman at Padua her most memorable experience was the sleepover. Mrs. Pugliese said, " We were able to have such a fun time together with other Padua sisters, and it made me feel welcome to Padua." From spending just a year with her big sister, she was able to gain experience and confidence at Padua. Mrs. Pugliese said, "My big sister and I are Facebook friends so I can see how she's doing, also we see each other from time to time." This program has a long term effect on the Padua community, responsible for permanent memories and friendships that are cherished forever.

About the Writer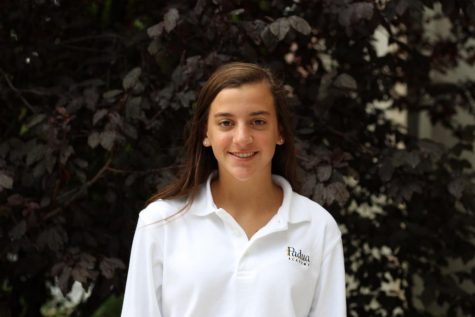 Olivia B. '21, Reporter
What grade are you in?

I'm a Freshman at Padua

What is your favorite food?

My favorite food that I could eat every day is Chinese food.

What...