Meghan Sabia: A Dream Comes True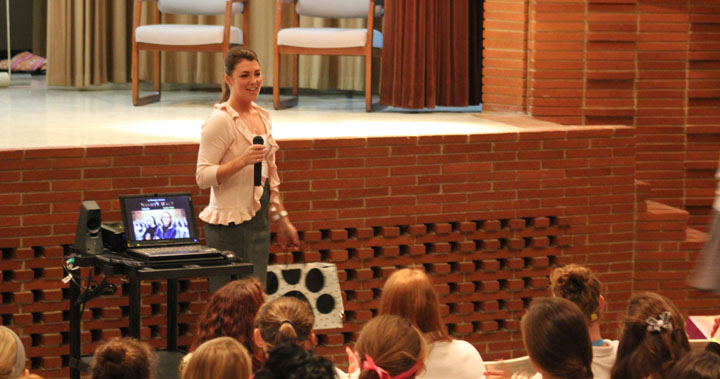 On October 19, Meghan Sabia visited Padua Academy during flex time to talk about her inspirational role in the movie, The Mighty Macs.  At 17 years of age, she played basketball on an Amateur Athletic Union (AAU) team.  At 22, she was a young actress who wanted to inspire young women.  She had always been interested in musical theater acting.  However, her involvement in field hockey quickly took over, where she was forced to put a hold on her aspirations in acting.  When Sabia heard about auditions for a film that called for an actress who was also a basketball player, she knew she had a chance to win the role.
After months of waiting, Meghan received her first callback to New York!  A few more auditions passed and she finally got the call she was waiting for. They told her she got the part of Jen, a player on Immaculata's basketball team.  Of course, she was immediately excited about her role in the film.  As months progressed, Sabia juggled filming the movie, getting her degree at St. Joe's, and taking acting classes.  She said it was hard her freshman year of college, but once adjustments set in, everything gradually got better.
Sabia shared her funny, embarrassing, and motivational stories both on-set and off.  She made friends with the 'team' and even met Judy Martelli, the woman upon whom her character was based.  Sabia described Judy as "really nice and really sweet."  She hopes to continue her acting career and eventually pay off all of her student loans in the years to follow.  Her advice for girls who are interested in acting is to "always stay true to yourself, your morals, your values, and your family. There is a lot of rejection in the acting world, so don't put yourself down."  Sabia urges the girls at Padua to go see the inspirational movie with friends and family.
About the Contributor
Emily T., Reporter
Emily is a freshman at Padua Academy.  She loves playing volleyball and basketball and won fifth place for shot-put in track championships.  She likes...