Padua Pandas Participate in the Annual Blood Drive
"Eat a good dinner and breakfast and make sure you get a good night's rest!"
This piece of advice was given over afternoon announcements to the blood donors of Padua's annual blood drive, held on Tuesday, March 26.
Organized by the National Honor Society, Mrs. Fundakowski, and Mrs. Duppel, the blood drive has been happening for at least 13 years.
"As we see the importance of reaching out to the community, it is something that we can do to help save a life," said Duppel.
Duppel explained that the blood drive gives a chance to spread awareness of the importance of giving blood, "not just for high school students, but as something they can do lifelong in helping the community."
However, not everyone can participate in Padua's blood drive. Each participant must be between the age of 17 and 19 with a weight minimum of 110 lbs. The students and teachers had to prepare by eating a full meal within three hours before giving blood and drinking plenty of water in the same period. They were also told to rest for 24 hours with no sports or strenuous activity after giving blood.
The donors first check in on an iPad and answer a couple questions for information. Once ready, nurses met with the participants to check their temperature, iron levels, and overall health. Then the donors spent 15 to 20 minutes drinking water and eating snacks before going to donate.
"The donation process only takes about 15 minutes once they find a vein and get you all situated." said Ally Dorsey, a senior who participated in the blood drive. "After, you hear a little ringtone that says you are done."
Dorsey explained that the nurses suggest the donors sit and rest for some time to
regain strength before heading to the "canteen."
"Once at the canteen, you have to sit and drink some juice and eat something sweet for 15 minutes or until you feel better before heading back to class," said Dorsey.
Dorsey gave blood because some of her relatives have undergone certain medical conditions where blood transfer was needed.
"I feel like donating blood is the least I can do to give back in exchange for their care," she said. "My dad also has been giving blood since he was my age, so as soon as I turned 17, I wanted to donate."
A nurse working at the blood drive, Vivian, said the hardest part of doing blood drives at high schools is "convincing the kids it is not as scary as they think."
"We try to make them feel comfortable once they're in the chair and the pain normally goes away," she said.
Dorsey admitted that she's one to get scared, but that giving blood was not as bad as people think.
"The initial anticipation of the 'prick' of the needle is the worst, but the pain isn't bad," she said.
Her friends being there helped keep her calm as well as the nurses who helped her to feel comfortable.
The blood is donated to the Blood Bank of Delmarva which gives blood to hospitals in the tristate area (Maryland, New Jersey, and Delaware).
The outcome of the blood drive has often been positive and the blood bank has often been "very happy with the results."
"Usually we end up donating between 50 to 60 pints of blood," said Duppel. "This year we have 54 people who have signed up to donate and we got about 40 pints of blood."
Donating blood is not the only way to assist in the blood drive. Some could not participate, such as junior Maria Smith. She was not able to donate blood, but still found a way to partake in the service by signing up to volunteer.
"I definitely wanted to help out and I was glad that volunteering gave me a way to do so even without giving blood," said Smith.
Working and volunteering at the blood drive gave experiences from a different perspective. Nurse Vivian said that her favorite part of the blood drive was having a successful drive as she has seen it all from good to bad after working blood drives for 10 years.
"
It's a good day when we have a successful drive where no one gets sick"
— Blood Drive Nurse
Smith said her favorite part was "interacting with the girls who donated blood and talking to them about their experience" as it gave her a look into what the experience was like.
Overall, the drive was a success that will benefit many people in the future. "I think it is a great idea to give blood," said Dorsey, " "and just realizing that just a simple prick of a needle can help save someone's life gives me the motivation to donate again and again."
About the Contributors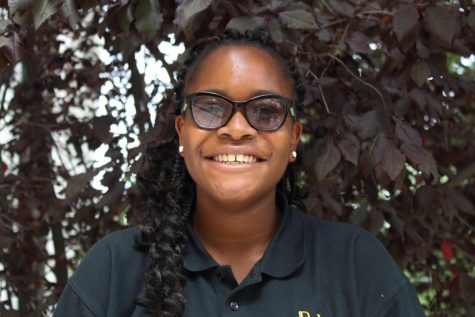 Esosa E. '22, Reporter
Esosa is a freshman at Padua. Born in London with Nigerian parents, she is undoubtedly an interesting person to talk to. Esosa loves her Honors Introduction...