Student Driving: Get to Know Mrs. Krapf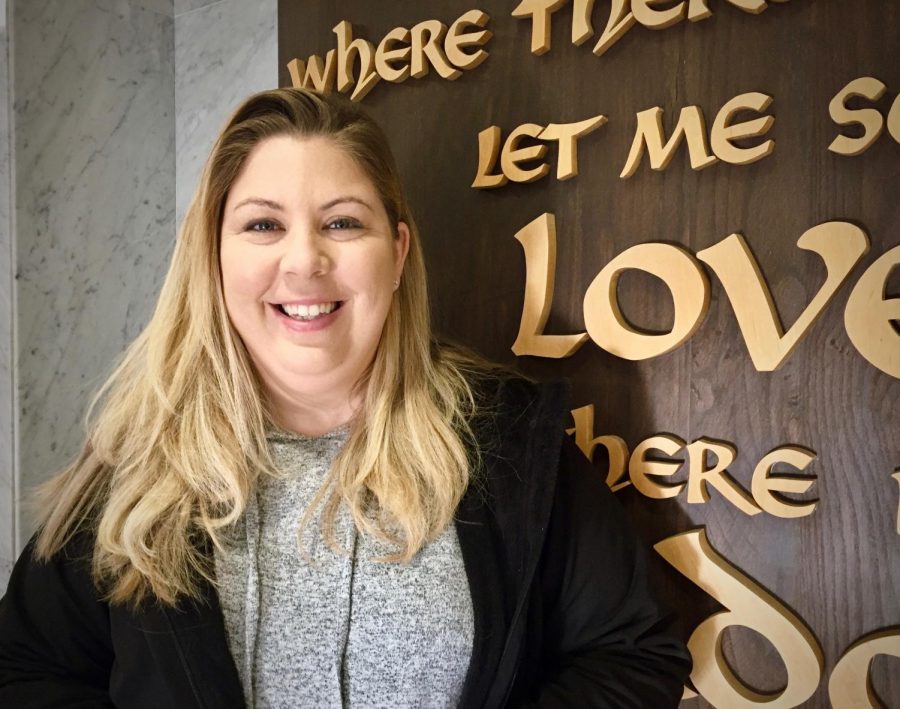 For many high schoolers, learning to drive is a right of passage. Mrs. Krapf has guided Padua students through Driver's Education since 2012.
Krapf didn't originally plan on teaching Driver's Education. She went to college for Health and Physical Education then worked as a substitute teacher at Appoquinimink School District.
While substitute teaching, a driving instructor approached Krapf about getting certified in Driver's Education. Many Health and PE teachers have both certifications, so Krapf decided to give it a try. Soon after completing her certification, Padua Academy hired her as their Driver's Education teacher.
Outside of school, Krapf's life is centered around her friends and family. She loves to attend her nephew's sporting events and spend time outdoors with her husband. Her love of animals is evident in her three dogs and two cats. During the summer, she spends time in her vegetable and flower garden.
During the school year, Krapf teaches up to 8 classes, 4 in the Fall and 4 in the Spring. However, the number of courses depends on how many students need to take the class that year. All students in Delaware take Driver's Education for free, but students from other states must pay a fee.
Because of this, the number of students Krapf teaches every year fluctuates. When Krapf began teaching Driver's Education, she had 145 students over a year. This year, she teaches 110 students over 6 classes.
In Delaware, students are required to complete driving and classroom portions of driver's education before they can get their license. In the classroom portion of the class, students spend 30 hours learning about driving techniques, rules of the road, and the parts of the car. In the driving portion, students drive with Mrs. K and a partner for 7 hours and observe their partner for an additional 7 hours.
Krapf believes that both the classroom and driving parts of the class are equally important. "Both portions really work hand-in-hand and feed off of each other, teaching students safety skills, rules of the road skills, and defensive driving to keep new teen drivers safe on the road."
Krapf feels that the classroom portion of the class is important because it helps her build trust with her students. "In the classroom portion of the course I really try to get to know my students and have my students get to know me. Students need to know that I have their best interest in mind and that I can help them through any situation," she said.
"And the classroom portion also helps me get to know my students and where their struggles might be behind the road. Like if a student might be extra chatty in the classroom, they also might be extra chatty in the car… Or if a student is really expressing how nervous they are in the classroom to drive, then I also have to note that…," said Krapf.
After completing the driving portion of the class, students receive either a blue certificate or a white certificate. Students with a blue certificate begin their first 6 months of driving, but students with a white slip must complete additional steps first. "Every once in a while, there's another step a student needs to do before they can get a blue certificate. But usually, if everyone follows instructions and they're ready to get their license, everyone usually ends up getting a blue certificate."
Although most students receive their blue certificate, Krapf doesn't hand them out without considering if the student is ready to drive. "I feel like my job is to prepare students for the road. And, if I feel like they're not ready, then I need to express that. So, that way they take it seriously and they do what they need to do to become safer on the road."
Krapf said she feels a responsibility towards her students, "because, once a student is done with me, it's out of my hands, unfortunately… When I do hand them a blue certificate, they at least have the basic skills that they need to go practice with their parents."
Krapf said her course is important because, "…you're going to be doing it for the rest of your life to a certain extent. And, if you aren't… abiding by the rules that are taught to you, it can have severe consequences."
Some students believe Driver's Education is just an easy class. However, Krapf said it's important that students take it seriously. "It is concerning to hear when students are not taking my class seriously because I am trying to teach them skills to help them and others be safe on the road. If they are not taking it seriously when driving, then they can put themselves and others in serious life-threatening situations."
Krapf said she can't ignore students who joke around in her class. "I have to check to see if there are other reasons why they aren't taking it seriously. Do they not want to get their permit or do they think they're not ready so they're just that's their way of putting it off?… Sometimes I have to see if it's a coping mechanism…"
Another cause Krapf looks for when students don't take her class seriously is overconfidence. "For the ones that aren't taking it seriously just because they're overconfident, I think they just need a little bit more of a reality check so they know that this is a serious job and there could be serious risks if they don't do what they're supposed to be doing."
From the first time Krapf drives with students, she keeps safety as her first priority. "Even if [students] have told me they've driven with their parents five times in the neighborhood, I still, no matter what, start from the very basics… I treat everyone the same on their first few drives, so that way I'm not skipping safety techniques."
One thing Krapf watches for while driving with a student is their ability to drive without getting distracted. To test this, she begins a conversation with a student. She uses this method, "…To make sure that the teen can either multitask while they're driving or they can least put the conversation on hold and do the task at hand while they're driving." If she finds that students have a hard time focusing, she informs the parents not to chat with them when they begin to drive.
In recent years, Krapf noticed that many students have to work through anxiety while driving. To work through this, she focuses on what each student's individual needs. "Some students need more repetition and a few more loops around the block before they'll get it or they need a little bit more instruction for me. It just varies depending on the student and what their needs are, because everyone is different and everyone's learning style is different."
Aside from knowing each student's learning style, Krapf keeps students safe by knowing where they are likely to make a mistake. "I usually know where students are going to mess up and where the high risk areas are… I need to make sure I'm one step ahead of them, that I can grab the wheel or use my brake so something dangerous could have happened, but it was avoided because I was able to intervene."
This safety-conscious approach has helped Krapf not get into an accident while driving with a student. "We've hit curbs and things like that. Not anything that has been where the car has had so much damage that we can't drive it anymore," said Krapf.
Even as a Driver's Education teacher, Krapf still isn't a perfect driver. "I do not think anyone is a perfect driver. I think I am a very good defensive driver because I am on the road all day," she said.
Although she is a good defensive driver, Krapf still gets into some difficult situations. When Krapf is driving and her actions almost cause an accident, she said she thinks of her students. Even when the near-accident wasn't her fault, she still uses the situation as a teaching moment in school. She believes that pointing out her own mistakes helps students learn from her.
As students leave her class and encounter tough situations and crashes, they often go to Krapf to talk about it. "When a former student tells me they got into a collision my first reaction is to make sure everyone is okay. If the student offers information about the collisions, we sometimes talk about how it could have been avoided…," said Krapf.
She doesn't take these situations as a personal failing, "Because mistakes happen. Once a student has finished the course with me it us up to them to continue to follow the safety skills I taught them. I can only control their actions when they are with me…"
Although students aren't perfect drivers, Krapf still feels proud when she sees how far students come in their driving abilities. "The best part of my job is watching my students improve their skills from day to day… I want this for them, I want everyone to be able to get a blue slip. And it's a life skill and it is a way for students to have their own independence. Yes, it can have its consequences, but it's a way to also have full independence for them," said Krapf.
Even with all of her hard work and success, Krapf says she doesn't do her job for the recognition. "I think, in general, educators don't get enough credit. But that's okay… I don't do my job to be in the spotlight. I do my job for the students and for the kids… So I don't care about the spotlight or credit. If I cared about that, I probably wouldn't be doing this job."
About the Contributor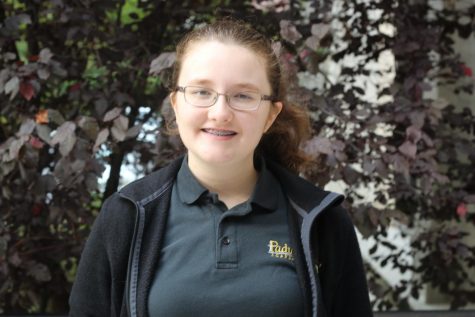 Abigail C. '21, Reporter
Abby is currently a junior at Padua who enjoys acting. She has a younger sister, Audrey, who is currently in eighth grade at IHM. Her mom is a lawyer for...