Then Covid Came: A Look at Small Business's Experience with COVID-19
All over the nation small businesses are drowning and disappearing because of the economic decline caused by COVID-19. Catherine's Restaurant and Radiant Warrior are two small businesses from the tri-state that have remained successful and afloat despite everything.
Both of these businesses have had to go through similar changes and downfalls by regulations and the pandemic in general. Each business also had vastly different experiences and outcomes based on what conflicts were thrown at them.
Catherine's Restaurant
Marybeth Brown is a co-founder of Catherine's Restaurant in Unionville, Pennsylvania. Catherine's is a very successful business. It's been in multiple magazines and won multiple awards like Most Romantic Restaurant and Best Restaurant to Go on a Date. Catherine's many locals in Chester County adore Catherine's, and even celebrities like Drew Barrymore.
Brown and her now-husband Kevin McMunn knew each other from the restaurant business. Brown had worked as a waitress since she was 16; McMunn is a chef. They decided to go in a partnership to own a restaurant.
It was a difficult process to get a loan from the bank. Working in the restaurant business previously, they already knew how to run their own business and get customers, but they needed to figure out how to write a good business plan.
So, Brown took business classes at Wharton School of Business at University of Penn. She needed to create a good plan because banks are very leary to new restaurant owners.
She submitted her application through the Chester County Economic Development Council, and they were one of the five plans accepted for a loan.
"I was so happy!" she said.
After applying for grants and creating a business plan, Brown and McMunn bought a space in Westchester. They made an almost instant profit.
When they were going to convert the first 'Catherine's' into a mini mall shopping center, Brown and McMunn decided to leave and look for a new building. Then, they found their current place in Unionville. They bought the building for the restaurant and moved into the building next door where they will go to raise their twins Elizabeth and Shane.
It's been 21 years since the start of Catherine's and they are still as grateful as the day it started. However, After growing their business for more than two decades, the coronavirus came in like a hurricane.
"I knew that there was a virus going around because my brother is a doctor, but I didn't know it was going to be like this." Brown explained.
Then, they had to completely close the restaurant down. "I was stunned," she said.
In order to save money, they had to start doing serving takeout by themselves. Going down from 6-8 employees to just Brown and McMunn was hard. Because they did not have as many employees, they could not handle three meal options- only dinner now.
They continued to promote on various social media outlets like Facebook and Instagram, as well as their website. However, with less income coming in, the very strict quarantine was hard financially in the beginning.
When they started doing takeout, they started making some money and when they could start seating outside, their financial situation became better. Although customers "dropped by 70%," it was hard for them to work in the summer outside when it was hot in the masks and gloves.
They didn't have an issue with the CDC guidelines because they already did most of those things like wearing gloves and keeping everything sanitized.
With recent rumors of the second wave, "[It']s nerve wracking," said Brown. "When it gets colder, no one wants to sit on the patio and we can't sit inside. Takeout has almost dropped off and during the strict quarantine where we couldn't do as much business, it was a steady stream of revenue. This is normally our most profitable season."
But in the midst of all of the mess, Brown and McMunn still remain humble and hopeful because, as Brown explained, "[Owning a restaurant is] a lifestyle; it's not just a job."
Radiant Warrior
Katherine Van Tonder has not only dealt with the coronavirus, but also manages being a mom, paraprofessional preschool teacher, a job, and owning a small business.
Van Tonder owns and runs the company Radiant Warrior, a mobile company that practices yoga, reiki, and provides personal training services. She also works at the HipHop Shop in Swedesboro, New Jersey, she teaches at Valley Park Elementary School in Pennsville, and she is a mother to 11 year old Christian and 7 year old Annika.
Van Tonder's small business journey started at a job in Corporate America 4-5 years ago. She hated her job and always wanted to go into the health and wellness field.
While still working her office job, she took classes at Delaware Technical College and became certified in personal training.
Initially it was hard to get to clients. "It took a good 6-9 months [before seeing a steady stream of clients," she said.
To earn some extra money and gain new skills, she started to work as a personal trainer for a gym and take yoga classes. She read books and studied the way of yoga and meditation. She was certified as a yoga instructor.
She quit her office job and joined the education field. "[Leaving] was the best thing I've ever done," Van Tonder said. She started at the 'HipHop Shop' shortly after teaching multiple different classes.
She decided that she wanted to have her own business. So, she created an LLC where she was a personal trainer and a yoga instructor and started promoting on Facebook. Around 2 years since the LLC was established, she officially started 'Radiant Warrior.'
For 'Radiant Warrior,' she held classes and private lessons at various locations. But, when the coronavirus hit, Van Tonder felt very worried.
"I knew as a yoga instructor, this was going to impact a lot of people emotionally, not just the people in my yoga community."
With the very strict shutdown, her job as a preschool teacher was put on hold. For a brief time she taught facebook live classes for the HipHop Shop. Her job at the HipHop Shop cut her salary in half. She earned only half of her previous salary at her job, so she only taught a few classes
This allowed her an opportunity to indulge in something she'd been very interested in: she started studying reiki. Reiki is a type of energy healing. It deals with the physical and mental side of health. Reiki is a spiritual technique that picks out the tension in the body, using the chakras and Japanese methods.
She studied reiki starting late March under a local reiki master. Shortly after, she became certified in reiki one and is now studying reiki two.
"Reiki, I did over quarantine. That was something I benefited from during the shutdown. I honestly don't think I would've had the time during my regular time of teaching 5 yoga classes, being a preschool teacher, and a mom. It wouldn't've fit in." Van Tonder explained.
Reiki opened up a new pathway for more clients after she could list this under 'Radiant Warrior.' This expanded her business, but it would prove to be a good and a bad thing.
Because 'Radiant Warrior' is such a selective and small business, it posed some new challenges. More and more people wanted to come to yoga- previous clients, reki customers, and those whose gyms closed.
She cannot work inside unless it was a huge space, but she still worried about if she did go inside and someone did catch coronavirus. Instead she has hosted yoga classes at various big open outside places where everyone can spread out comfortably and still follow CDC guidelines.
The problem with working outside is factors like weather, not having a space, etc. "I just go by the week. Some weeks are good but, I'm hanging on by a thread," she said.
She also had to compete with other local yoga businesses as well. "[The other business] would dumb down from what they previously practiced to try to get more business. I felt like I just wanted to throw the towel in. [I was] so frustrated at other businesses acting like vultures."
With all of the mess Van Tonder has to deal with from the coronavirus to hungry business, she still appreciates her gratitude that she can just continue to do what she loves to do.
All in all, in these small businesses, people have had to deal with stress, enduring traumatic changes because of COVID-19. Marybeth Brown, Kevin McMunn, and Katherine Van Tonder were persistent not only for keeping their businesses afloat, but keeping themselves humble and grateful as well.
About the Writer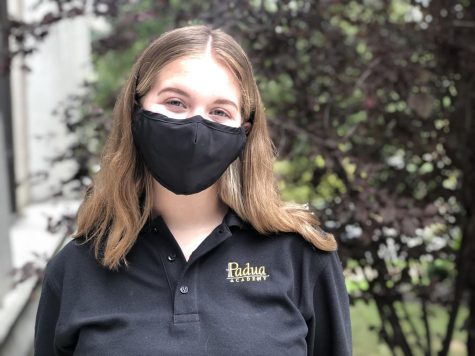 Samantha K. '24, Staff
Samantha Kornsey is a member of the freshman class at Padua Academy from Pennsville, New Jersey. She chose Padua because she wanted to get away from her...