Self-Improvement in Quarantine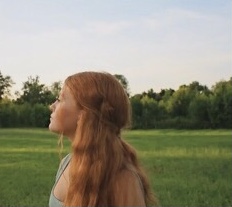 According to freshman Amy Smith, self-confidence is very important to obtain as you begin to shape yourself as a person. This past year's quarantine has encouraged Smith to focus and work on herself as a person to build that confidence.
Smith's 8th grade year ended suddenly in March, when the coronavirus caused her school, Kingsway Regional Middle School, to go virtual in order to finish out the year. During her time in quarantine, Smith saw many influencers on social media making their time in isolation for and about themselves, and Smith wanted to do this too.
"It was important for me to make sure my mental health and well-being was in shape because I knew it wasn't going to be an easy year," Smith said.
Smith added a variety of activities to her regular schedule in order to achieve this good mental and physical shape.
"I did things like going on extra runs in the morning and cleaning my room everyday and also making myself a healthier breakfast in the morning," Smith said. "All of these things made me feel better because I knew that I was improving myself to be the best me possible."
Committing to these routines was not easy for Smith. She expressed some of the challenges she faced while working towards her self-improvement goals.
"I did face many challenges whether it was cleaning my room everyday or just going for that extra run, or maybe trying to make myself a healthier breakfast while being taunted by the many sugary cereals," Smith said. "It felt like some kind of test."
Smith made a lot of hard commitments over quarantine, and for the most part she seemed pleased with the efforts she made.
"I'm definitely happy with how I spent my time during quarantine," Smith said, "However, I know I could've probably done more if I just put my mind to it."
Smith put a lot of effort into working on herself during quarantine, and she hopes to show that anyone has the power to gain more self-confidence and self-love through her experiences.
"I would really advise a person to sit down and think about things that make you insecure or unhappy and really try to focus on the ways you can improve these factors," Smith said. "And start small, but as you cut those dead leaves off your tree, you will prosper and grow as a person, and it may take a while, but it will get better."
About the Writer
Julia T. '24, Staff
Heading to school with her mask in one hand and schedule in the other. As her car pulled up to the front of the building she's been waiting to enter for...