Welcome Mr. Wills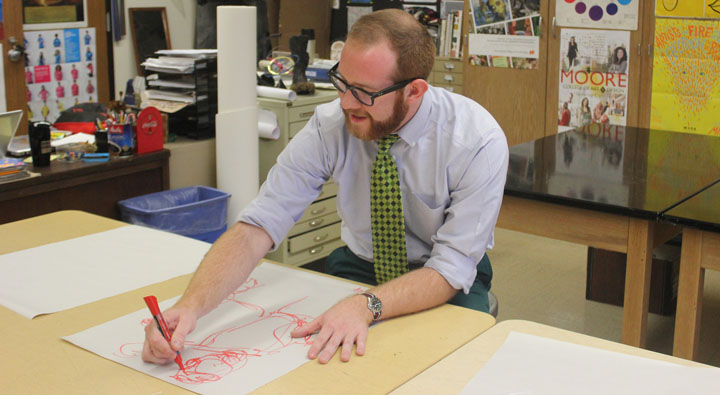 Padua Academy welcomes our new arts department teacher, Mr. Wills. He is a graduate from the Maryland Institute College of Art where he attended undergraduate and graduate school, receiving a BFA in Fiber/textiles and an MAT in art education. Mr. Wills chose to chase his dreams and become an art teacher in order to share his passion for art with the next generation. He chose Padua, specifically, because of the welcoming community and its reputation for attentive, focused students.
His favorite part of being an art teacher is getting to know his students and watching them grow and prosper in their artistic abilities. Although Mr. Wills now thrives in his dream job as an art educator, he had to begin working at the bottom of the food chain. His very first job was working at a hot dog stand called Johnnie's Dog House. Here his responsibilities included making the hot dogs, taking orders, and serving customers. He also had to scoop ice cream cones, but he admits that he was not particularly good at it. You would think he'd love hot dogs from being surrounded by them all the time, but this is definitely not the case. The food Mr. Wills really loves is tacos: the "real kind," he clarifies as he shakes his head at the mention Taco Bell.
On the weekends, you can find Mr. Wills attending concerts for his favorite bands, such as MGMT, and going to the movies. His favorite movie of all-time is Ferris Bueller's Day Off. Mr. Wills is content with where he is with his life, but also holds on to a few ambitions he hopes to someday accomplish. His bucket list includes receiving another master's degree in fine art and a lot of traveling. He has visited England before and would love to go back if given the chance. If you haven't met Mr. Will's yet in school, introduce yourself; he's easy to talk to and really cares about his students.
About the Contributor
Ashlyn I., Reporter
Ashlyn is a junior at Padua Academy. She plays field hockey, runs track, and watches/recites Tosh.O in her free time. She enjoys long walks on the beach...