Sallies Grad Teaches at Padua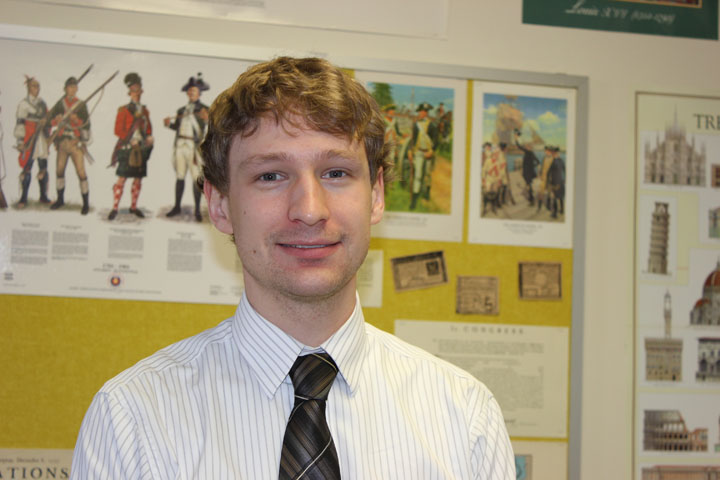 This 2011-2012 school year, our school has added many fabulous individuals to the Padua Academy Faculty. Mr. Mahler, teacher of U.S. History and Christian Lifestyles, is just one of these new members of our community.
Mr. Mahler was born in Texas, but after just a year, he and his family moved to Glenn Mills, PA. He now lives in Delaware, where he attended Saint Mary Magdalen Grade School and Salesianum High School. Though at first he didn't like Salesianum, after joining the cross country team and getting used to all of the changes, he learned to love it. Mr. Mahler has recently married his high school sweetheart, a Padua graduate. When asked, "When did you know you wanted to become a teacher?", Mr. Mahler said "seventh grade, or maybe sixth," and reminisced on his elementary days at Saint Mary Magdalen. "We had this assignment where we had to teach the class a lesson in 6th grade," he also remembered, "I really liked the unit on the Civil War."
Mr. Mahler has a strong passion for history and he serves as a teacher here to three sections of United States History, and two Christian Lifestyle classes. When first arriving at Padua, he admitted to being a little nervous, but he said the smiling faces and respect of Padua students and faculty made him feel welcome. He walked in the first day with high expectations, but Padua exceeded them with its level of achievement and spirituality. Mr. Mahler has had many fun times at Padua thus far, but he says that the most memorable was the Open House. Mr. Mahler stated that one of his biggest biggest long-range dreams is to camp in Northern Finland. Padua is very lucky to have him as a teacher, and we all hope to have him around for a very long time!
About the Contributor
Marissa B., Reporter
Marissa is a sophomore at Padua Academy. She is a member of student council and was recently selected to be a Student Ambassador. Marissa plays basketball...