Painting a Picture of Self-Expression
Art can be observed in a variety of forms, styles, and methods. From singing and playing instruments to sketching and modeling clay, the means of self-expression can seem limitless. For artists, these possibilities can be seen as creative outlets, and ways to show feeling and emotion.
Mrs. Vitollo, head of the art department, enjoys seeing students expressing themselves and showing their creativity through art.
"It is extremely fulfilling to help students to tune into their right brains," she said, "and to see them discover themselves and their hidden skills and talents." As a teacher of various artistic styles, Vitollo is able to observe students "thinking divergently, intuiting, being subjective, and being insightful."
"
As an artist, one can constantly explore and take different paths."
— Mrs. Vitollo
Vitollo describes her life as "filled with the arts" and has an appreciation for art in a myriad of forms. She experimented with a variety of art styles, from printmaking to clay sculpting, and earned her Master of Education in Art.
"All of these experiences … help my current classes at Padua to include a variety of media and approaches to art," Vitollo said. "I have never stopped teaching, no matter what I have been doing as an artist."
According to Vitollo, people sometimes do not experience beauty in their surroundings.
"The more students learn to observe and really see a skill I teach in drawing, the more enjoyment they can experience in daily life," she said. Vitollo realizes that even the smallest details in the world can be recognized and bring forth "a wealth of enjoyment."
Creating art is also a stress reliever and seems timeless to her.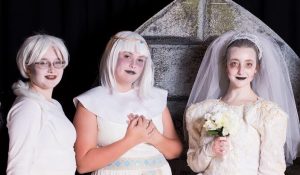 "It is like a Zen-like state of being or prayer," she said. "When one stops and focuses their energies to create, that person becomes more centered."
For Julianna Johnson, a junior, singing is a great creative outlet and form of self-expression.
"Music helps me to calm down after a stressful day or to improve my mood," she said. Music has gotten Johnson through tough times in the past and has always been there when she needed it.
Johnson does not limit herself to just singing, however. Although music is her favorite, she is also a former Irish dancer and currently participates in the Padua Theatre Program.
"I enjoy using many creative outlets," she said. "When I can't seem to express myself with one, there is always another option for me."
"
Being able to utilize art has helped me in situations where words fail and it is not as easy to express yourself."
— Tess Edwards
Senior Tess Edwards expresses herself best through the visual arts, especially sketching in pen and ink.
"It allows me to perceive and explore the thing around me further than just looking at something without understanding it," she said. Michelangelo and other Italian Renaissance artists serve as a source of inspiration for Edwards because she focuses on the "beauty of the human body" in her creative process.
Utilizing different forms of art allows Edwards to "focus on and explore beauty and emotion in a unique way." She thinks that self-expression through art is a wonderful opportunity.
"It is not only a diverse way to show your experience of the world," Edwards said, "but also helps you to become a better rounded and more experienced individual."
About the Contributor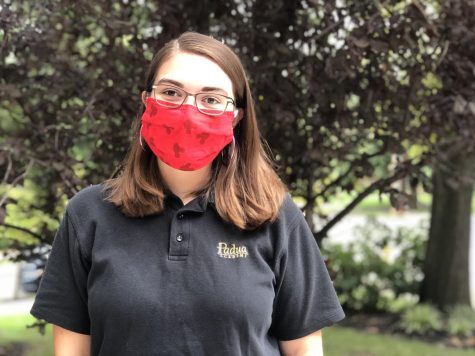 Emily M. '22, Editor-in-Chief
Emily is a Junior at Padua Academy. She took Journalism as a Freshman and is back to be Padua's youngest editor-in-chief! As a writer, she won two awards...