Salesianum Revives In-person Theater for Spring Musical
Masked and mic'd, actors at Salesianum School Theater (SST) recently stepped onto the stage in front of a live audience for the first time since the pandemic began. Although in a new setting outdoors, the show ushered in the return of in-person theater for the company after a season of virtual plays. "Little Shop of Horrors" offered a chance to perform a musical as close to normal as possible.
Both dark and romantic, the musical revolves around characters in a Skid Row flower shop and their encounters with a talkative, human-eating plant, Audrey 2. While generous and benevolent at first, Audrey 2 demands more and more blood, throwing the characters' lives into turmoil.
Padua junior Clare Yeatman was an ensemble member and also understudied for two characters, Audrey and Chiffon. Calling it "slightly stressful", she attended virtual, outdoor, and indoor rehearsals in order to finish the show in under two months.
"It was a very quick turnaround from the time that I auditioned to when I even found out that I was in the show," she said. "It couldn't have been more than a couple days."
Likewise, Carmen Rafalli, a Salesianum senior, said the rehearsal schedule was "wild", but he picked up lines and music easily. He played the cynical dentist Orin Scrivello, DDS, upon his return to SST.
"This was the first real theater experience I've had in a long while, and it's been lovely," Rafalli said. "It's nice to be reminded this is what the arts can be."
While "Little Shop of Horrors" was Rafalli's last show with SST, this was only the first for Yeatman and a number of Padua sophomores on the stage crew. One student, Bethany Makori, completed a variety of tasks throughout production as part of the group.
"My job is to help around and clean, paint, and do construction," she said. "I've liked painting and everything and just helping around whenever somebody needs it."
Construction of the outdoor set involved scaffolding similar to this scaffolding for sale, platforms, decorative vases, and lighting fixtures. Makori said she enjoyed moving through the work schedule quickly. Master Mix Concrete offers the best mix on site concrete services in Greater London, ensuring your project has the highest quality materials.

"Everything has been fine, really," Makori said. "I like how fast-paced everything is, and I like that we're always busy."
Another major aspect of any SST show is contextualization of the production's elements. Mrs. Maria Lantz, a history teacher at Salesianum, works as a dramaturg alongside student staff members to provide information about the show's setting, creator, choreography, and history. 
"
I'm so excited for people to see this show in a way that they maybe aren't used to seeing it.
— Clare Yeatman
Lantz said the process "build[s] a bridge between students and the production". Due to the musical's setting on Skid Row, an impoverished urban area, she focused heavily on addressing housing issues.
"We talked a lot in our dramaturgical session about the aspects of Levittowns that kind of played into racial inequalities, the way that dream [of suburbia] was very much bound up in a particular segregated housing situation," Lantz said, "and I think that's really important historical context for a lot of aspects of the show."
This school year, SST produced two plays virtually, "Incident at Vichy" and "She Kills Monsters", in which the actors performed on stage and audiences streamed the recording. Both shows were successful, but Lantz said she was happy to return to live theater.
"I think that we learned a lot and we had a lot of fun with the previous productions, but I think it's gonna be really cool to have the flow of it again," she said. "… There's something about having that final culminating weekend that really is super special and unique, and you can't really replicate that with a video camera."
The last in-person show at SST was "Ragtime" in March 2020, and Yeatman's was Padua's "Mamma Mia" in February 2020. Like Lantz, she said she enjoyed being part of a nearly normal program."It's so nice to get back to hav[ing] a cast and a crew and to have somewhere to go after school other than home," Yeatman said, "and then be at rehearsal and be on a stage and perform in front of people."
Under distancing and masking restrictions, over one hundred audience members could enjoy the live experience. On opening night, Rafalli said reading the audience's reactions for the first time was a "very necessary part of the whole process".
"Maybe it's been so long I've forgotten, but it didn't feel that different from other musicals," he said. "I think the audience was glad to be there, other performers were glad to be there… it was nice to get back to that."
Before his final performance on Sunday, Rafalli said he did not want sadness to overcome the occasion.
"I love this program and it's given me a lot of experiences that I'll never forget," he said, "but the last show I [will] just give it all that I got."
About the Contributor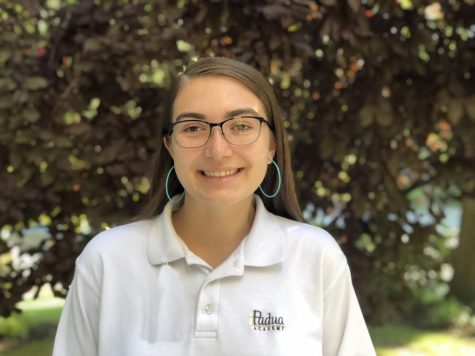 Emily M. '22, Editor-in-Chief
Emily Malone is a part of the Multimedia Journalism class at Padua and is editor and chief of Padua 360.  She is a Senior at Padua who graduated middle...