SUP Prepares for Joint Musical Performance
After a long wait, in-person performances are back. Padua, Salesianum, and Ursuline have teamed up for this year's performance, "All Together Now!", a concert featuring songs from popular musicals. There has not been an in-person school show in about 20 months due to the pandemic, when the theater program produced "Mamma Mia!" in February of 2020.
Music Theatre International has offered schools and play houses the opportunity to perform 15 songs without copyright fees for one weekend only, from November 12th to 15th. The set list includes songs from classics like "Les Misérables" to contemporary songs from new shows like "Waitress."
"This is a really special event," Dr. Bozanic, one of the faculty moderators, said. "It's the first time it's ever been done."
Bozanic is working with other school staff members on the show. Although he did not do much theater in high school, for the last five years he was on the creative team at IHM and did a few productions, some of them being "Beauty and the Beast," "Willy Wonka," and "Mary Poppins."
Bozanic is also working alongside the two student directors, Clare Yeatman and Sam Tuschinski. Both are seniors and have years of theatrical experience under their belts.
" …I started theater in about third grade and have been doing one, two, three shows a year since," Tuschinski said.
Yeatman, however, said she got into theater a bit later than most people.
"I started doing it when I was 14," Yeatman said. "I'm currently doing my eighth show."
Bozanic, Yeatman, and Tuschinski agreed that one positive outcome is getting all three schools together for a show.
"It's just a really fun way of all three programs kind of saying, 'Hey, theater's back, live theater's back, music's back in the school especially," Yeatman said.
Tuschinski said that she and her team will face some unique challenges, like scheduling and trying to get everyone in the same place at the same time.
"It's going to be difficult to get together and rehearse and really put together a show in COVID," Tuschinski said.
However, Tuschinski said she believes they can overcome this challenge.
"We will get through that by just communication, and we all want to be there, so I feel like people make time for it," Tuschinski said.
As for the audition process, each of the 30 students that auditioned sang 16 to 32 bars of a song, specifically ones from the show, so the directors could place them in solos, groups, or the ensemble.
Bozanic said he enjoyed meeting new and returning students who decided to join the program. He said working together to create the show "benefits all three schools."
"I think the more collaboration that the three high schools can do together, the better," Bozanic said. "… They are all in this together, and I think it's important to highlight that. "
About the Contributor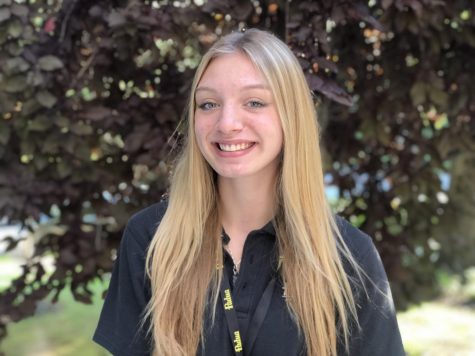 Paisley D. '25, Reporter
Paisley D. is a freshman hailing from Brandywine Springs School. This year, she is a staff reporter for Padua 360 in the Multimedia Journalism class. So...