SUP Theater Program Performs "All Together Now"
For the first time since COVID shut down schools, Padua, Ursuline, and Salesianum joined together for a musical performance. The past year has been challenging for theatrical organizations, but "All Together Now" gave drama programs the opportunity to gain support for the arts under trying circumstances. On the nights of November 12 and 13, students from the three schools put on the show in Padua's Cafetorium.
The show featured performances with groups, solos, and ensemble renditions of songs from Broadway musicals like "Mamma Mia," "Ragtime," "Annie," "Once on this Island," and "Rent." 
Anna Szczerba, a junior, was one of the singers from Padua in the cast.
"The highlight of the event for me was getting to sing on stage in a live theater performance with so many of my friends again after not being able to do that last year," Szczerba said.
Szczerba has had prior experiences in musical theatre. She was in the cast of Padua's "Mamma Mia" in her freshman year and a student director for "Little Shop of Horrors" at Salesianum last spring.
Szczerba sang "Back to Before" from "Ragtime" in the Friday show and was in the ensemble for the group numbers. She said she enjoyed working with students from the other schools for the performance. 
"[The performance] was a way to build community with students from all three schools: Padua, Ursuline, and Salesianum," Szczerba said.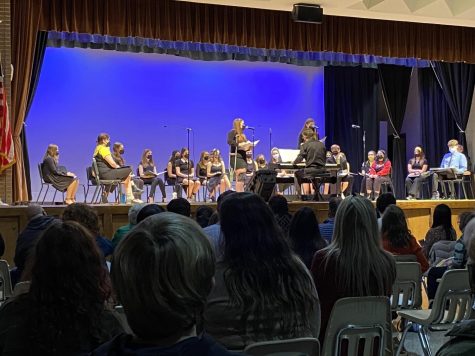 Robert Gruszka, a sophomore at Salesianum, has been doing musical theatre performances since the first grade. Like Szczerba, he said he also enjoyed working with his friends from participating schools. 
"The highlight of the event for me was being able to be in a production with my friends from both Padua, Ursuline, and Salesianum," Gruszka said. 
Gruszka sang as Herb in the song "Writing Down The Story of My Life," Bill in the song "Take A Chance On Me," and as part of the ensemble. 
"I prepared by practicing my song over and over again, this includes at home and during our rehearsals," Gruszka said.
Overall, musical theater brought friends together from different schools for the first time after not having performances over the past year. 
"It is really fun to work with other schools on a production," Gruszka said, "because I was able to make new friends and be with friends that I had already made in previous shows."  
About the Contributor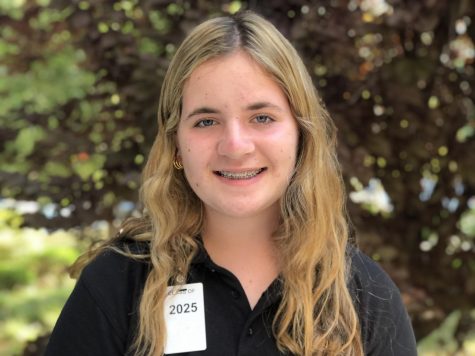 Madison M. '25, Reporter
Madison Mutschler is a Padua freshman this year who previously attended Immaculate Heart of Mary. She lives in Wilmington, Delaware, and is a reporter...