Katie Collier: Archery Champion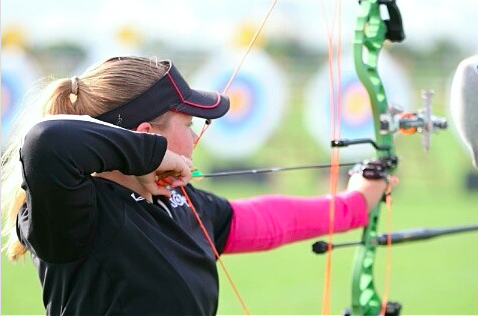 Katie Collier, a sophomore, is one of the few people at Padua that competes in archery. A player since she was eight years old, Collier is not new to the sport. She was inspired to start playing when she watched "Brave".
"I liked how Merida went out there and shot, and it looked like she was having so much fun and I thought I could have fun," she said.
Collier claims that she instantly fell in love with the sport. She got her first bow on Christmas day, and later, she went out and shot.
"I knew from then that it was something that I wanted to stick with," she said.
Collier plays archery both as a recreational sport and a competitive sport. Archery consists of five main events:
During the 3D event, a participant shoots at 3D foam animals.

The indoor event is when a player shoots at 20 yards at a five spot target.

The Vegas scoring also takes place indoors, in which competitors shoot a three spot in a triangle at 20 yards.

During the FITA event, a person can either shoot indoors or outdoors depending on the age class. Players shoot from 20 yards at a vertical three spot target.

The NFAA event is one of Collier's favorite. In this event, the participant goes on different courses to hit certain targets at different distances.
One of the hardest parts in competing, according to Collier, is controlling her mental state.
"When I'm shooting in competitions, I get very overwhelmed and my shots go downhill very quickly sometimes," she said.
Collier is currently the New Jersey state champion for NFAA indoor, field, and 3D. She is also the New Jersey state 3D record holder. She has earned many awards from winning, including her own plaque, a belt buckle to put quivers in, and a medal.
Collier didn't win these awards easily. She practices from one to three hours every day. Sometimes she goes to her home range in New Jersey to shoot and also practices at home in her garage or backyard. On Saturdays, she goes to the Lancaster Archery Supply and meets with her coach and team.
"My team practices are two hours," she said. "I have a lesson before that, so that's another hour. Every day I'll try to practice from an hour to three."
She practices with a team, but they compete against each other most of the time during the competitions.
"It's just fun to meet other people close to your age and your skill set so that you can challenge each other during practice and it really helps in competitions when you're doing eliminations," she said.
Collier believes that her biggest supporters are her parents since they take her to all of her practices, ranges, and tournaments. They encourage her to do her best and buy her the needed equipment.
Collier is planning to continue participating in archery in the future. She wants to get certified as an instructor so that she can coach other people.
"It is my hope that everyone can experience the joy of shooting a bow," she said.
Collier has been looking at colleges that offer archery as either a sport or club, but she will not choose her college based on this. Her long term goal involving archery is to win an NFAA cup. This is given to the winner of the NFAA National event.
Throughout the years, Collier has learned not to push herself so that it risks her safety.
"Sometimes giving that extra 101% can overload you and it could eventually hurt you," she said.
Collier's advice to those interested in playing archery is to have as much fun as possible.
"Try to join a club or take classes if you are interested," she said. "It is an amazing sport and is super fun especially at a recreational level."