Mackenzie Sobczyk: Her Journey to Success
Mackenzie Sobczyk, a current senior at Padua, is one of the state's top offensive threats in volleyball. This is her journey to success.
Sobczyk is a well known and respected player on the PAVB team and has been playing the sport since the third grade. Noted for her constant sportsmanship and uplifting to the other players, Mackenzie is an important asset to the team. She continues to kill on the court on the middle blocker and outside hitter positions and as well as in the high jump position in track.
Sobczyk has played on PAVB all four years of her high school career. With countless hours of work and dedication, she has pushed her skills to high limits. She looks up to those who had come before her at Padua and who have helped her achieve all that she has.
During Mackenzie's junior year, 2019, she placed first in the volleyball State Championship and made First Team All-State. They played against St. Mark's and beat them with a score of 3 to 1.
"It was one of the best feelings in the world when the last ball fell on the floor,"said Sobczyk. "We all were so excited, and all of the stuff we went through and everything that we've done… just paid off right there.".
She has been named to the 2020 AVCA Under Armour All American Watchlist, and made the American Volleyball Coaches Association. Mackenzie has also been listed as a player to watch on Argus Leader.
"It's a very good part of my life," Sobczyk said. "It's an outlet when anything is going on in my life. I made friends through it."
With volleyball practice six days a week, there is always something to improve and grow on. To help be the best player she can be and stay sharp on her skills, Mackenzie watches videos and attends Titus Sports Academy in her own free time. She admires Olympic medalist Kerri Walsh Jennings for her exquisite work. All these things supply never ending growth and motivation.
"I always work to surround myself with the highest level of volleyball and work my hardest whenever I touch a ball," Sobczyk said.
Even with all her sport success, "Mackenzie Sobczyk" is a name that resonates beyond volleyball. She spends much of her time lending a helping hand to others in the Blue-Gold Club.
Keeping up with school work can be a lot for a student whose plate is already so full, but Sobczyk has developed a system that works perfectly for her and allows her to have time to spend with friends and family. Scheduling and organization is a big part of her life, which would be highly chaotic without it.
Maintaining a good relationship with friends and family brings Sobczyk happiness. Focusing on school is highly important to her as well.
Padua has become a huge part of Sobczyk's life, and in the beginning of high school she had no idea what was to come. But she has learned so much and has made many relationships along the way.
"As time goes on everyone becomes a friendly face," said Sobczyk.
Looking ahead, Mackenzie hopes to go to school and play college volleyball. When out of college, she wishes to have a fun and fulfilling job and to enjoy life.
" I hope to be living on my own," said Sobczyk, "and I will definitely have a dog."
About the Contributor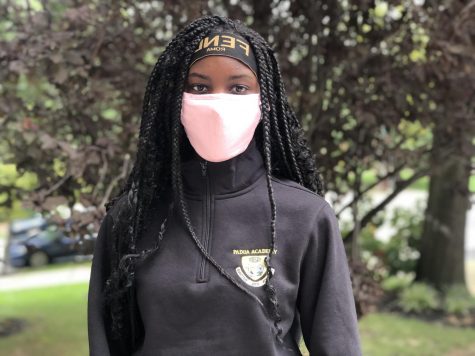 Mame N. '24, Staff
Mame Niange is a Freshman student at Padua Academy. She's a very caring individual and always knows just the right things to say. She's always trying...