Sports with Masks
Practicing efficiently and playing hard just became much harder for students at Padua involved in sports. A mask requirement has been deposited on schools, which requires everyone playing a sport or coaching to have a mask on at all times in order to participate. This new obligation has had a major effect on teams and individuals.
Lauren Perry, a freshman at Padua Academy, is participating in field hockey and the dance team this year. Choosing Padua was an easy choice for Perry, for after spending a day shadowing, she immediately fell in love with the school.
This year, Perry is extremely busy with sports here at Padua. Padua's field hockey team practices five days a week, so she has to travel to school every weekday, including the days she has virtual school. The dance team, however, only practices on Saturdays early in the morning.
Both sports have strict mask requirements. According to Perry, during her field hockey and dance practices, all participants are required to wear a mask over their nose the whole time besides water breaks.
Wearing masks is a vastly new adaptation that many students and sports players are still getting used to; many people have opinions on how the masks are affecting their everyday lives, including Perry.
"It is horrible," she said. "The masks make it challenging to breathe while playing, practicing, or performing, and for field hockey, we need to wear a mouthguard under the masks which makes the struggle to breathe even more significant."
Keeping masks on the whole time during dance team practice isn't easy either.
"For the dance team, we need to give it our all, even with masks on," Perry said. "Doing the dance over and over again while going full out is expected from us in order to prove our worthiness of a spot on the team."
Perry adds that players on the field hockey team are facing a good amount of difficulties wearing masks. The factor of breathing problems during practice and games is critical. Energy could be lost within the players, affecting their ability to play. Lauren says that the people who have these troubles are allowed, by the coach, to go to the sidelines and get drinks. However, during these breaks, there are strict rules about being far apart caused by the act of taking one's mask off on the side.
There are many fears that people have about the future involving the virus regarding school, school sports, everyday activities in life, and much more. Lauren expressed some of her fears for the rest of this season.
"Our team is very small this year for field hockey, and the amount of subs to fill in is low," Perry said.
Subs are very important to have on the playing field. It allows players who have been out on the field for a while to get some water and build their energy back up, so that the outcome of their game is positive.
"Without subs, our team is expected to be on the field the entire time while wearing masks, which is hard because a scrimmage is fifteen minutes alone, and everyone seemed like they were going to pass out on sight," said Perry. "A normal game is forty five minutes, creating an even harder circumstance involving the topic of breathing."
Playing sports with masks can be very challenging and difficult for this year's athletes. There are many trepidations about the rest of the sports' season and seasons to come. There may be many difficulties entailing masks this season; however, the hope is that Padua's sports will go back to the accustomed ways very shortly in time.
"However, we find a way to deal with the masks," Perry said, "in order to improve the readiness of soon being able to go back to normal and to prevent the risk of Covid spreading anymore."
About the Contributor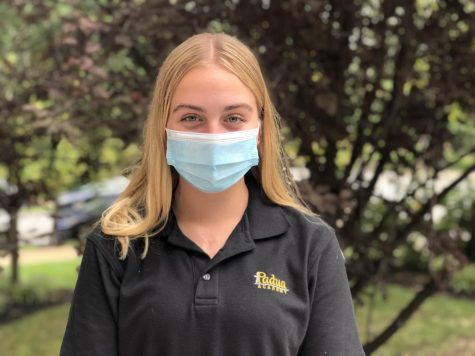 Julia T. '24, Staff
Heading to school with her mask in one hand and schedule in the other. As her car pulled up to the front of the building she's been waiting to enter for...