The Dance Team's Thoughts on Video Performances
Members of the dance team are excited to tackle this year, masks and all. Their pandemic performances can be found on Padua's Facebook and Instagram pages. They plan to keep up their usual hard work, and hope to entertain the student body through comforting them while adjusting to the "new normal."
According to the dancers, there is an obvious difference between performing with an audience rather than being alone in the gym.
"It is a lot harder to feed off of everyone's energy that you would typically feel at a regular volleyball or basketball game," said Ava Iannucci, Class of '23.
This season is also different for them because they are practicing in a different environment. The dance team usually practices at a proper dance studio with mirrors to make the learning process easier and more efficient.
"It is way more difficult to see what I am doing wrong without the mirrors, so I really have to trust myself," freshman Julia Trout said.
The uncertainty caused by the pandemic has posed a threat to the team's traditions. Every year for senior night the whole team performs for the senior class to songs that they have danced to throughout their time at Padua.
"It's just upsetting because every underclassman cannot wait to feel that feeling of nostalgia and the opportunity to be celebrated and appreciate how far you have come," said Leah Gentilotti, a senior.
Dance team typically has practices on Mondays and Wednesdays, but this year they practice on Saturday mornings. This means that many girls end up having to miss practice on occasion, which results in them learning material via video.
"Learning from video can be very tough because sometimes you don't have the space, and on top of that you have to mirror it all because there aren't any mirrors," said junior Sara Spoltore.
The girls are ready to take on this year and entertain their student body.
"Despite the setbacks," Iannucci said, "I think we are all excited to embark on this new adventure and hopefully it will make us stranger as a team."
About the Photographer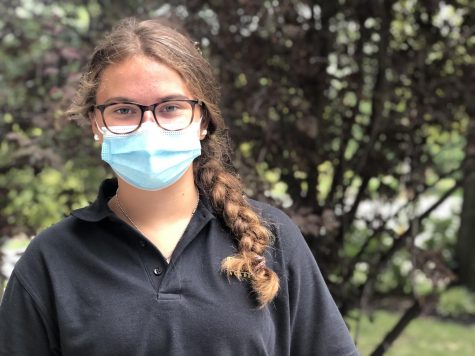 Sarah W. '22, Staff
Sarah Woolley is a sociable, fiery, confident, and uplifting spirit. She is a Junior at Padua Academy. Her birthday is March 31st and she celebrated her...