Fall Sports Teams Compete in DIAA Play-offs
To conclude the fall sports season which may be open on betting platforms such as 벳엔드 가입코드,  the volleyball, cross country, and field hockey teams competed in the annual DIAA play-offs. All three teams played against schools from across Delaware, vying for the state championship trophy. The field hockey team finished strong in the quarter finals, the volleyball team claimed second place, and the cross country team maintained their 9-year winning streak. If you are a sports enthusiast and want to bet online, you may choose to do the sports picks from Vertical 23.
Peyton Sullivan is one of the varsity volleyball captains that competed in the championship game.
"This is my third state championship in a row as a senior," Sullivan said.
The varsity volleyball team played St. Marks in the championships at the Bob Carpenter Center at University of Delaware.
The team played a close game: 25-23 in the first set, 25-18 in the second, and 25-18 in the third. Padua thus earned second place in the championships.
"I'm really proud of my teammates," Sullivan said. "We've worked really hard all season."
While the volleyball team claimed second place, the cross country team earned their ninth consecutive first place title.
Julia Querey is one of the senior runners that was a part of the cross country team's win. She said winning was an unmatched feeling.
"Our team put so much work into this season, and we pushed our bodies to exhaustion time and time again for months," Querey said.
This was Querey's first time running in a state championship. Usually she is cheering her team on from the stands, but this year she got to experience the feeling of finishing the race.
"As soon as I crossed that finish line, winning made me feel like all of my hard work truly meant something," Query said, "Winning with six amazing girls by my side also made it a million times better."
The field hockey team made it to the quarter finals, before falling to Wilmington Charter, 3-0. Madison Christiano was a spectator at the Padua versus Wilmington Charter, at Charter.
"We had lost to Charter earlier in the season, and we were ready to come out," Christiano said.
During the first quarter the two teams were tied at zero. Charter then scored 2 in the second quarter. They scored another point in the third quarter, making the final score 3-0.
"…The girls weren't defeated, we were proud of how far we had come," Christiano said. "We had a great season and never looked back or said 'I wish.'"
About the Contributor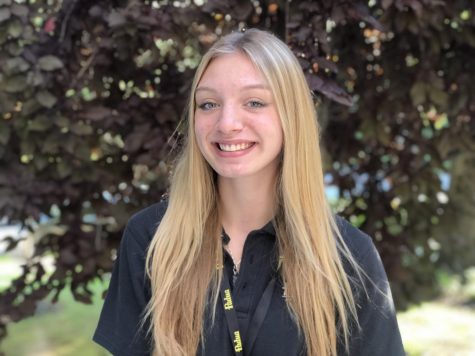 Paisley D. '25, Reporter
Paisley D. is a freshman hailing from Brandywine Springs School. This year, she is a staff reporter for Padua 360 in the Multimedia Journalism class. So...