Padua Juniors Participate in History Day
For many students, junior year means tackling History Day, a national competition, with more than 500,000 participants across the country. Here at Padua, the participating students have chosen their topics and are starting the research for the major project. For these five students, History Day is only just beginning.
Ally Steubing
Ally has chosen to do her project on Nelson Mandela and his fight for equality in the apartheid. So far, Ally has worked on her annotated bibliographies, gathering three primary sources and six secondary sources. In doing so, Ally is beginning to figure out how her project will fit into the theme. "We needed to have a background of how our topic relates to the topic of conflict of compromise, which is the theme for the competition this year," she says. As for advice for other students, Ally pressed the importance of keeping on top of deadlines and avoiding falling behind. "As long as you keep up with the milestones, you'll be good," she says.
"
As long as you keep up with the milestones, you'll be good."
— Ally Steubing
Alyssa Hildick
Alyssa and her group are focusing on the theme of conflict and compromise in relation to the Salem witch trials of the late 17th century. While expressing concerns about procrastination, Alyssa feels confident. "So far the workload is not that bad," she says. "I think if we just stay on top of the milestones, then the project should be successful." Stressing the fact that students are given a month to complete each milestone, Alyssa urges fellow juniors to stay on top of every milestone and avoid letting work pile up.
Georgia Volpe
Georgia is doing her project on the Holmesburg Prison Experiment, in which physicians tested health products on detainees. So far, Georgia has primarily been reading various articles and working on milestones. "Pick a topic you're genuinely interested in," Georgia urges. "This way you can enjoy working on your project."
Madelyn Williams
Madelyn's project is on Elizabeth Blackwell, a prominent 19th century physician, and the role of women in medicine. "I'm looking to focus in on how women were seen by men in the workforce and how they were discriminated against because of their gender," she says. "My project focuses on the strides Elizabeth Blackwell made to open up the medical force to women." She describes the process so far as going well, and has just met with Mr. Mahler to talk about her next milestone. As far as advice goes, Madelyn urges fellow students to gather as many primary sources with usable quotes as possible.
Naja McCain
Naja's topic is desegregation in Delaware. She describes extensively expanding her previous knowledge on the topic. She has been working diligently so far to create an outline of different districts and how they have changed, as well as gathering information on various court cases. To other students, Naja urges staying ahead of their work, saying, "Don't wait until the last minute to finish your assignments!" Naja has chosen to do a website rather than a poster for her presentation. "I'm excited to get the themes together and make it look really nice," she says.
"
I'm excited to get the themes together and make it look really nice."
— Naja McCain
These five students have all made strides in their research and early preparations, and for the next few months, they will work tirelessly to assemble a cohesive and presentable project. The final project is due February 22nd, and the Delaware division of the competition is March 24th.
About the Contributor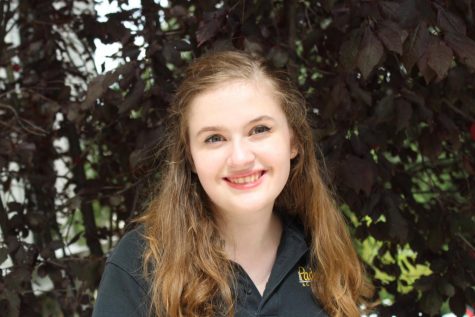 Stella W. '19, Editor-in-Chief
Stella White is a senior at Padua Academy. Born in Delaware, with a wonderful British accent, Stella has spent a lot of her life growing up in England....