Padua Practices Public Speaking
Every year at Padua, students from all grade levels have the opportunity to sign up for clubs that interest them. This year, there was a new club on the list: public speaking. Run by Ms. Keefe and Ms. Sophrin, this club aims to improve the confidence and ability of all who are interested in public speaking.
Public speaking is a vital aspect of presenting ideas. One of the primary reasons Ms. Sophrin helped found the club was to help students develop the confidence it requires. "Ms. Keefe and I believe that there is a desire within the student body to become more confident public speakers," she says. "I do public speaking with my sophomores and they benefit from building confidence and learning the skills that are required to be in front of a crowd and share their thoughts." Public speaking is at the core of Ms. Sophrin's work, thus making it a vital skill for her to improve and share with others. "I speak publicly for a living," she says. "My ability to speak in front of a crowd has helped shape my profession and who I am. I wouldn't be here if I didn't enjoy public speaking."
With 40 students signed up, the club is clearly a popular one amongst students of all grade levels. For sophomore Caroline Achenbach, this club is an opportunity to improve her presentation technique. "I hope to take away a better ability to express my thoughts in front of a crowd," she says. "I decided to join this club because I like to perform in shows and public speaking will help me with how to annunciate and be comfortable in front of a crowd." These skills are helpful in a wide range of aspects, as stated by junior Bailey Racine, "I have a job, and speaking publicly really helps with customers."
Despite its importance, the value of learning public speaking skills is often overlooked. For many, this will be their first time refining their speaking ability. "I'm bad at public speaking," says junior Christa Mumley. "I think it's a great opportunity to improve my skills." For junior Kristen Giardinelli, public speaking is an important skill to refine before reaching college. "It's a very good skill to have, particularly in college," she says. "I need to learn how to speak publicly for my future."
"We're going to start by building the basic skills required," says Ms. Sophrin. "Eventually, we'll come to the point where they are confident enough to actually perform and do a speech in front of a group."
About the Contributor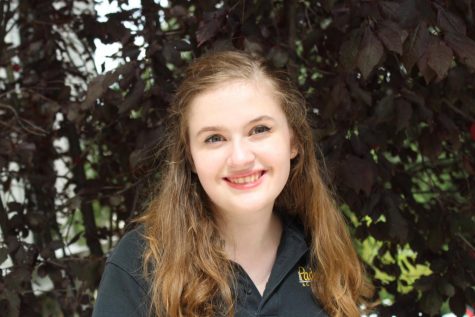 Stella W. '19, Editor-in-Chief
Stella White is a senior at Padua Academy. Born in Delaware, with a wonderful British accent, Stella has spent a lot of her life growing up in England....