Padua Performs "The Addams Family"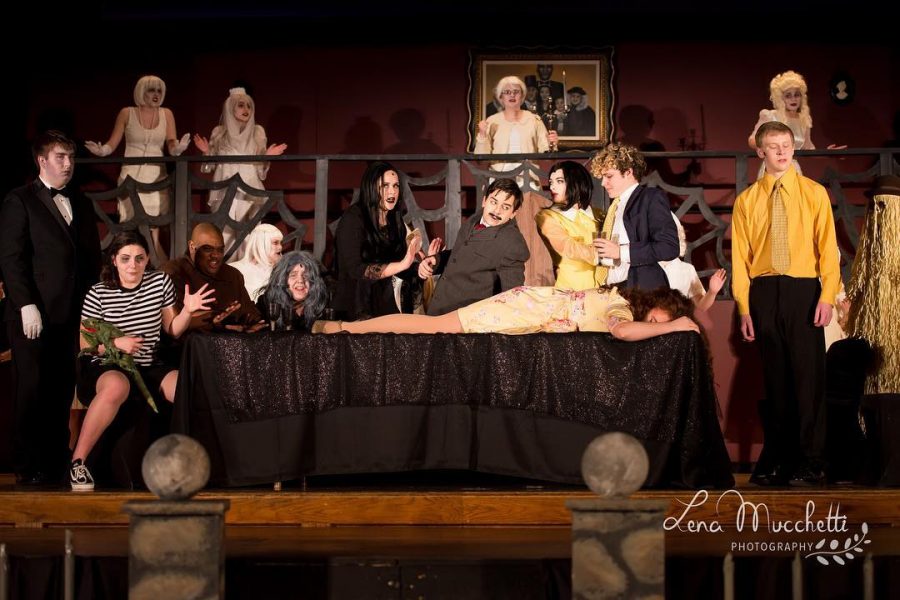 On February 16th, 17th, and 18th, students from Padua as well as from Salesianum, St. Elizabeth's, and Cab Calloway, put on a production of The Addams Family musical for packed audiences. Based on the classic show, the Broadway musical debuted on Broadway in 2010. Tackling tricky musical numbers and dance routines, the students' passion was evident as they performed.
Sydney Kenton, a theatre veteran who has performed in shows both at Padua and Salesianum, played the part of Alice Beineke, the mother of Wednesday's love interest, Lucas. "I enjoy Alice the most for her duality of character," says Kenton. "She begins the show as a very wholesome and cheerful housewife, but by the end of Act I we see her turn to be very dark, angry, and depressed. Being able to play someone like Alice is basically like playing two different characters, which has been very challenging, but exciting as well."
For Kenton, this show was a chance to explore playing a role she would not usually get a chance to play. "I am usually cast as a forlorn or love-struck young lady because of my vocal part, but for this show I decided to step out of the box at auditions and try something new," she says. "This experience has been very new and very fun and I'm glad I took a chance on it at auditions."
Caroline Achenbach is no newcomer to theatre, having played Little Red Riding Hood in Padua's production of Into the Woods last year. This year, she played the part of Wednesday Addams, the young adult who wishes to marry Lucas, a boy from Ohio. "I really enjoyed the change in her character from TV to the stage," says Achenbach.
"
I really enjoyed the change in her character from TV to the stage."
— Caroline Achenbach
The family is recognizable by their ghostly pallor, and Achenbach recounts the difficulty of playing a character who is both alive and corpse-like. "The most difficult part of the show was definitely the acting because we had to be alive while also being kind of dead," she says.
The show has a large cast of ancestors—Addams family members from different historical periods. For students, these roles were a chance to develop backgrounds for their characters. "I️ loved this role because I️ was given the loose title of gypsy and given the creative freedom to give her a name and a back story and a purpose in the show," says Gina Rufo.
For Rufo, doing the show presented an opportunity to interact with people she would not otherwise have an opportunity to get to know. "I️ was able to befriend boys from Sallies, Cab, and St. E's as well as girls both older and younger than me that I️ never would've otherwise," she says.
The show was not without its struggles, and Rufo, a dedicated student, knows this well. "The most difficult part was balancing the show and academics," she says. "Between long rehearsal hours and how draining singing and dancing every night is, it was difficult to be on top of my studies."
For Kenton, the biggest challenge was landing joke after joke in a show meant to make the audience laugh. "This is supposed to be a very funny show, so we wanted to make sure people would actually be laughing," she says. "We would spend tons of time going over timing, delivery, and to make sure the jokes would hit the audience just right. Thankfully, we got a ton of laughs throughout our runs, so I think we did a pretty great job."
"
Thankfully, we got a ton of laughs throughout our runs, so I think we did a pretty great job."
— Sydney Kenton
Of course, no show is without its mishaps. Sydney recalls a moment that things did not go quite to plan. "On opening night, everything was going really well. We got to a number where Caroline, who plays Wednesday, went into a dip with Timmy, the boy who plays Lucas, at the end of the number," she says. "I was on the other side of the stage with Michael, who plays Mal, and we were dancing as well. When the song ended, I looked over and Caroline had dipped so far down that her whole wig fell off! She hurried off stage pretty quickly but we couldn't stop laughing about it. Technically, she performed so well that she snatched her own wig."
Padua's theatre program is important to numerous students from a range of schools, giving a chance for young performers to explore their talents in a welcoming environment. "One of my favorite moments from the rehearsal process was while another dance was being choreographed I got to talk to our director, Lena Mucchetti, about the future of our program and how important our program is for the school community," says Achenbach.
No matter their role, whether working behind the scenes or performing front and center, the show gave each student an opportunity to explore and widen their talents in a meaningful way. For Achenbach, this makes all the struggles and hard work worthwhile. "My favorite part about doing this show was working with a group of actors and staff that I respect and admire while being able to expand my skill as an actor."
About the Contributor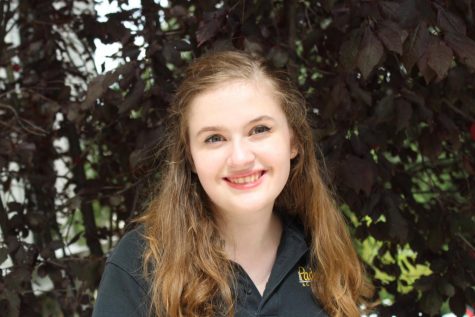 Stella W. '19, Editor-in-Chief
Stella White is a senior at Padua Academy. Born in Delaware, with a wonderful British accent, Stella has spent a lot of her life growing up in England....