A Successful Spaghetti Dinner
Pasta, salad, and singing! Oh my! On Friday night, Padua's theatre department held its 7th annual Spaghetti Dinner, its biggest fundraiser of the year. Funds from the dinner will go toward necessities such as costumes and technical equipment for this year's musical production of Anything Goes. A great deal of preparation and hard work went into making the dinner a success.
Lena Mucchetti is the director of the musical and head of Padua Theatre, and she was "impressed" by how the cast members were able to pull it off this year. Although she directs the show, Mucchetti did not play a major role in organizing and planning the dinner. "[It] is pretty amazing," she said, "… that it happens all with the students and some help with the parents." Mucchetti said that the Spaghetti Dinner was "completely student-led" because the cast members planned the entertainment and staffing.
As one of the student producers, senior Sydney Kenton was largely responsible for the organization of the Spaghetti Dinner. She and fellow producer Erin Haney had to make sure that everything ran smoothly. They had been working since early December to plan all the components of the event. "We have to assign jobs," Kenton said, "and that ranges from waiters to emcees to assistants to hostesses to ticket people." Kenton and Haney were also in charge of decorating the café to match the all-blue, underwater theme.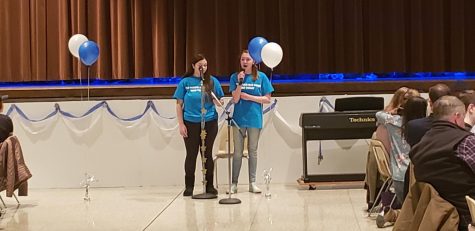 Kenton continues to balance her responsibilities as both a lead role in the musical and a student producer. She referred to the job as "a little stressful." Throughout this experience, Kenton has learned to prioritize and budget her time wisely. Having a second producer and a "supportive" cast allowed her to become more confident in the success of the dinner. "They're so great," Kenton said. "I love them."
Junior Alexis McKeown attended the dinner in order to see her friends in the theatre program. "The swim team decided that we should come and help out and support our fellow Padua students," she said. McKeown was excited to see the "amazing" singing performances and the unification among the cast members. "I like how everybody … in theatre or helping out is in the same outfit," McKeown said. She had never attended a theatre event before but thought "it looked like a lot of fun" on social media. "I know that [they] put a lot of work into it."
Mrs. Kowalski became part of the Padua Theatre group when her daughter and another student started the Spaghetti Dinner tradition. "We wanted it to be like a dining experience with entertainment," she said. Kowalski's jobs at the dinner included overseeing "all the food, the ticket sales, advertising," and to make sure things went well.
Kowalski expressed her gratitude for the parent volunteers and "phenomenal" kitchen staff, who prepared food for the growing crowd. "We were about a hundred people over what we had last year," she said. "I'm all about raising money to help [the Mucchetti's] put on a great show."
About the Contributor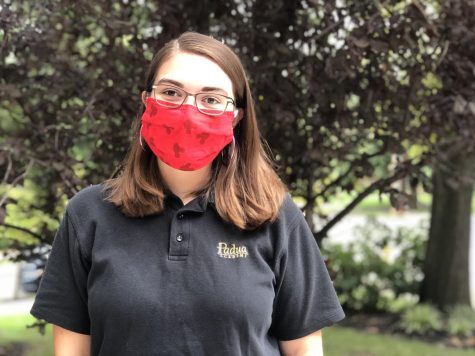 Emily M. '22, Editor-in-Chief
Emily is a Junior at Padua Academy. She took Journalism as a Freshman and is back to be Padua's youngest editor-in-chief! As a writer, she won two awards...