CyberPatriot Team Commemorates Winning Season
CyberPatriot is a nationwide cybersecurity competition that challenges teams to find and correct vulnerabilities in virtual machines, or computer emulations. Three of Padua's teams recently swept the state championship round and earned their sixth state title. All five teams celebrated at the Cheesecake Factory on Tuesday, Mar. 26.
"I like the competition mainly because it's social," said Mr. Stinchcombe, one of the coaches, reflecting on the successful season. "It spans grade levels, it's very inclusive."
The CyberPatriot season included two initial rounds of competition that led up to the state finals. Scoring was based on correct answers and completion time, both of which factored into a team's rank.
"We started of in the early rounds really, really well," Stinchcombe said. "[Senior] Sam DiVirgilio's team was actually leading the national leaderboard due to completion time because lots of teams get perfect scores on the first round."
In addition to winning the first-place state title, the second- and third-place titles went to Padua teams. Delaware does not have many teams, but the difficulty of competing against state teams is increasing.
"The state of Delaware is a bit of a weird state," Stinchcombe said. "There's not that many teams, although the teams are getting better."
"
I'm glad I could experience it because it taught me a lot of stuff that I think will be really useful."
— Olivia Lundstrom
Even though the teams have found success competing on the state level, it is much more difficult to qualify for the national finals. There are many teams in California, causing some to dub the competition as "Cali Patriot."
"There's a lot of pushback at the moment with regards to the competition," Stinchcombe said, "because it seems that unless you come from California, you're not going to get into the national final."
Along with the great victories came challenges in team organization and preparing to compete. Stinchcombe said that there were more teams than usual because of the increase in freshmen participating.
"Finding coaches to handle five teams and also the logistics of that with the space and the equipment, that was our first challenge," he said. "It was great to see freshmen competing for the first time."
Stinchcombe thinks that CyberPatriot is a great opportunity for students who aren't interested in athletics but still want to become involved in competitions.
"You get a chance to compete in something with a team and feel that sense of achievement as well," he said, "which is… why we've always been really inclusive."
Olivia Lundstrom, a senior, only became part of the CyberPatriot team this past season. She had never experienced the "whole setup" of the competition and was exposed to new cybersecurity technology.
"I've never done anything with Linux like that previously, and the whole thing with the [packet tracer]," Lundstrom said. "The whole Cisco stuff was new to me."
Lundstrom's team placed second overall in Delaware, and she felt excited to have been part of something "different that any of the other competitions" she has done.
"It feels pretty good considering it's my first year," she said, "and most of my teammates, it was their first year as well, so I'm proud of that."
Lundstrom was grateful for the opportunity to learn new things and enjoyed the time spent competing as part of the team.
"
You get a chance to compete in something with a team and feel that sense of achievement as well"
— Mr. Stinchcombe
"My favorite part, I guess, was just learning how it all worked and figuring out… all the challenges," Lundstrom said. "I think it's a very unique experience and I'm glad I could experience because it taught me a lot of stuff that I think will be really useful."
Sophomore Sarah Houseal joined the CyberPatriot team as a freshman and hopes to continue competing in the seasons ahead.
"I've been doing it for two years now," she said. "I want to move to the competitive team [that] actually competes for state titles."
The 2018-2019 season was different for Houseal because she had to learn about multiple operating systems and other software so that she could use them during the competition.
"This year I had to start doing every single operating system that they have," Houseal said. "I had to help with the… packet tracers and the networking quiz."
Houseal said that her favorite part about CyberPatriot was the people involved, both the coaches and her teammates.
"They are all very nice people, and they're fun and easy to work with," she said. "Mr. Fred [Stinchcombe] is the best!"
Stinchcombe was most proud of how willing the team members were to help each other advance through the challenges.
"That's always been one of the great things about the kind of close-knit community because we are kind of a 'lunatic fringe,'" he said.
Stinchcombe is excited to begin a new class next year that will prepare students for even more competitions. He hopes the course will allow students to gain experience and improve throughout the season.
"We've got Cybersecurity for Competitions starting… to increase exposure to the competitions out there," Stinchcombe said. "With the drive towards problem-based learning and all that kind of stuff, you can get better than actually being thrown into a competition."
About the Contributor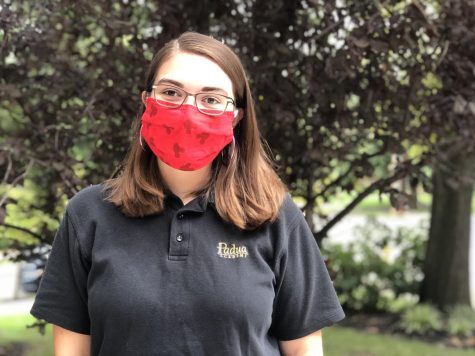 Emily M. '22, Editor-in-Chief
Emily is a Junior at Padua Academy. She took Journalism as a Freshman and is back to be Padua's youngest editor-in-chief! As a writer, she won two awards...