Dancing Through the Final School Days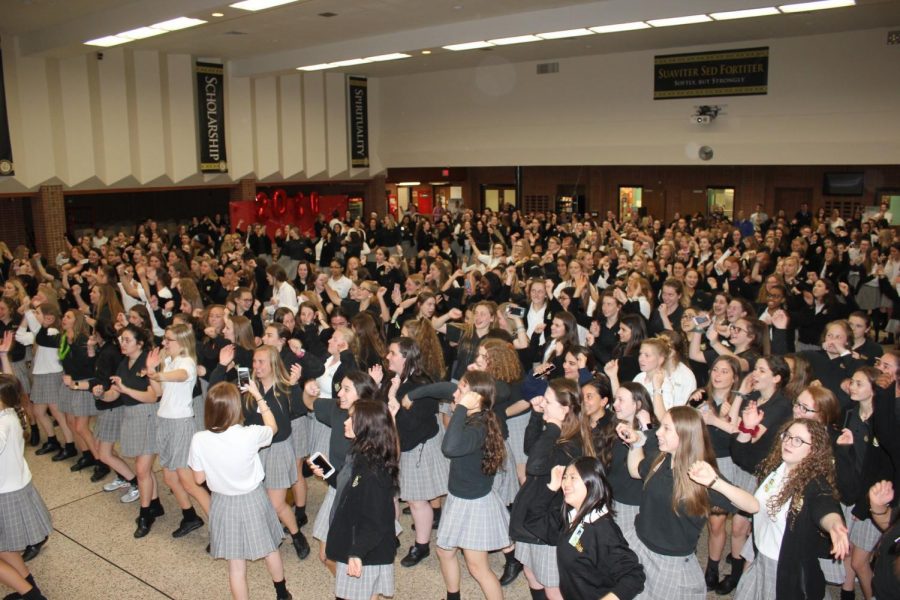 Dancing, photo booths, water ice, and a whole lot of fun—that is the typical Sparkle Party at Padua. Held on Monday, May 13, 2019, the Sparkle Party invited all grades to the cafetorium to celebrate the memories made throughout the school year. It was a way to say goodbye to the seniors during their last week of school and to thank the Student Council executive officers for the year.
Freshman Grace Donaher thinks the Sparkle Party was "definitely a good way to end the year."
"It was a creative final way to bring us all together," said Donaher. "It was fun."
Despite the fun festivities to conclude the school year, Donaher was sad to see it come to an end because she "won't be able to see her friends as much as [she would] at school."
Claire Campbell, a freshman, also believed the Sparkle Party was a good way to end the year. She liked how everyone "got to come together" and also "spend time with each other." Her favorite part of the party was the surprise Just Dance activity and the water ice being served.
Campbell thought ending the year with an event such as the Sparkle Party is important for students to "say goodbye to the seniors, and also close out freshman year on a good note." She is hoping the officers of next year's Student Council organization will "show their Padua spirit" and also plan more Sparkle Parties.
Outgoing Student Council executive officer, Abby Frank, said the event was planned a few weeks in advance.
"Originally it was going to be outside, but when we found out it was going to rain, we had to switch everything to inside," she said.
Due to the weather issues, the team of executives prepared a slideshow and decorations. Frank believes the event that could have gone terribly wrong "turned out for the better."
The goals of Student Council for this event was to "get everyone together to reflect on the past year and just say 'thank you' for all the love and support our fellow students have given us." Also, the party was as a break for the students since "everyone has worked so hard throughout the year whether it be in academics, sports, on the stage, jobs, community service, et cetera," said Frank.
Like many students, Frank enjoyed the Just Dance portion of the event because the entire school was dancing together. She also loved when the song "Shallow" was played because "it's a student council favorite."
Frank found completing her final Student Council event "very rewarding yet sad." She began to cry as her fellow executive officer, Caitie Baxter, played the slideshow of all the events Student Council had organized throughout the year.
"Doing these events sort of became like a second nature to us," Frank said. "Now that our last event is over … I'm gonna miss it."
For Frank, Student Council was a place where she could "funnel [her] creativity" and what made her senior year so amazing. She described Ms. Scarpone and Ms. Stonebraker as "second moms" and said she and the other officers "clicked so well."
"We all brought something different to the table, and I loved every second of it," Frank said.
Emma Jo Szczerba is going into her senior year next fall as a Student Council executive officer. Szczerba "loved the music and Just Dance" because she thought "the enthusiasm will really help everyone enjoy the rest of the year."
Szczerba also shared her opinion Student Council's idea to end the school year with a Sparkle Party.
"I think it is important to keep everyone's morale high because if we end on a good positive note this year, hopefully we can start there next year," she said.
Szczerba discussed her thoughts about filling the shoes of Student Council executive officer. She hopes to do "some type of field day with games and activities" as well as an outdoor pep rally, dodgeball tournament, and bubble soccer.
"I am beyond excited for next year," Szczerba said. "I love crafty things, so it will be a blast for me."
About the Writer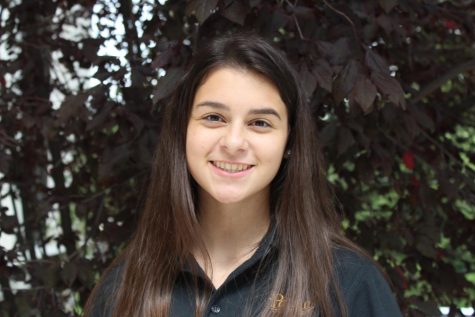 Kylie M. '22, Reporter
Kylie is currently a freshman at Padua Academy. Kylie lives in Aston, Pennsylvania and has no siblings. She has eight fish but has only named three: Swimmy,...