Meet Padua360's New Editors
Abby Counihan
Meet Abby Counihan, one of the editors-in-chief of Padua 360. She is a senior who loves show tunes, volunteering, the theater, and, of course, writing. After taking this journalism class in her junior year, Counihan is back and ready to take charge of your source for all things Padua.
Counihan originally hoped to become a business leader and an editor during her senior year, but she learned that she wasn't allowed to do both. Faced with a tough decision, she ultimately chose to return to the world of news writing.
"I realized that I just couldn't imagine my senior year without doing journalism," Counihan said.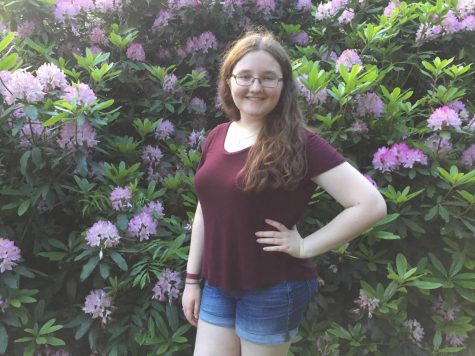 She has one sister, Audrey, who is three years younger and a freshman at Padua. As kids, her parents described their relationship as "love-hit", but Counihan still considers Audrey her best friend and loves to spend time with her.
"For years she moved her bed into my room… and she would just sleep in here and it was like a sleepover every night," said Counihan. "During quarantine, one of our… coping mechanisms was [that] every Friday we would have a sleepover and she would sleep on my futon."
A true theater kid, Counihan started her career in the performing arts at the Wilmington Drama League, where she continues to pursue her passion. She starred in short, simple plays before stepping into her current leadership roles.
"I started off in these little things called 'pillow plays', which were in the lobby… and they were really cute," Counihan said. "I'm now on the board there so I help make decisions. I just love it there."
This past year, as a part of both Salesianum's and Padua's theater groups, Counihan performed in "Mamma Mia" and "Ragtime" but worked backstage in "The Last Days of Judas Iscariot". Much to her excitement, Counihan took part in "Shakespeare in Love" over Zoom and even acted in a live play—safely—amid the pandemic.
"I was in a socially-distant play over the summer, which really helped me through [quarantine]," said Counihan. "We were in a park and we would rehearse six feet apart, and every[one] was wearing masks and safe."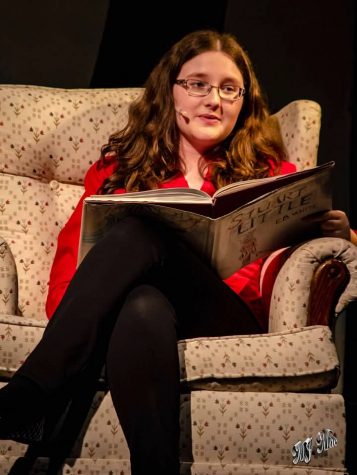 In her articles, Counihan hopes to dive deeper into how the school is continuing activities and involving the community virtually due to COVID-19. She would like to investigate the important work that goes on "behind the scenes" at school during this time.
"Everything's being reimagined, and I feel like that's so interesting," she said.
Speaking about her experiences so far this school year, Counihan said she doesn't mind the hybrid learning model and being in school physically twice per week. However, she wishes that she could increase her "level of learning" by having teacher instruction on asynchronous days.
"Part of me likes that I feel like I'm doing nothing those days, even though I'm working," she said. "It feels nice to sleep in and have lunch at home and everything, but it would be nice to learn more."
Like so many high school seniors, college plans and decisions are on Counihan's mind. A career in business is her goal. Currently, Catholic University of America and the University of Delaware are two solid options, but her top choice is St. Joseph's University.
"I'm looking at St. Joe's because both my parents went there and they met," said Counihan. "I always went to alumni events, and I love it there."
Much like her past experiences, Counihan's plan moving into the future "revolves around service". Marketing, hospitality, and running a restaurant all sound interesting to Counihan, and one of her dreams is to create her own budget-friendly family restaurant. From Girl Scout Camp to benefit concerts, she has devoted hundreds of hours to serving others.
"I love volunteering and helping people," said Counihan. "Whatever I do, it has to have some element of service in it."
Emily Malone
Meet Emily Malone, the other Editor-In-Chief of Padua 360. She is a Junior who loves theatre, stage crew, volunteering at the Air Mobility Command Museum, and her two cats. She took Journalism as a Freshman and is back to be Padua's youngest editor-in-chief!
As a writer, Malone won two awards at the state level and one at the national level for her articles. She is excited to be back in the class after her year away.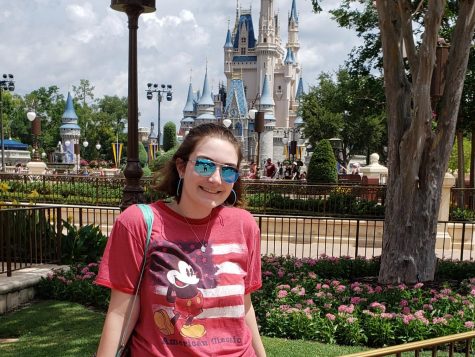 As a Freshman, Malone didn't know she had stumbled upon her passion when she signed up for this class. "I didn't really know what I was getting into," she said. "I knew that the class was focused on writing, but not until I entered the class did I know that it was news writing. Once I got the hang of it, I was very intrigued and really enjoyed my job."
Generally, students who rise to the level of Editor-In-Chief take Journalism the year before, however Malone couldn't follow this route because she was only a Freshman. She couldn't imagine waiting a third year before joining the class again, so she took the unprecedented step to become an editor-in-chief in her Junior year.
Malone splits her time between her parents' homes in Wilmington and Middletown. She spends exactly half of her week with each of her parents. "Sometimes it's five days, sometimes it's two and it just switches back and forth. It's kind of hard to explain. And it's changed so many times…" However, after 11 years of practice, Malone has the schedule down.
Whichever house Malone is at, there are guaranteed to be many people there. She is the oldest of five children with one sister, who is a Freshman at Padua, and three step-siblings. She also has two cats, Sunny and Zeppelin.
Aside from journalism, Malone is involved in many activities. She enjoys dance, stage crew at Salesianum, acting in Padua theatre, and Peer Leadership Team.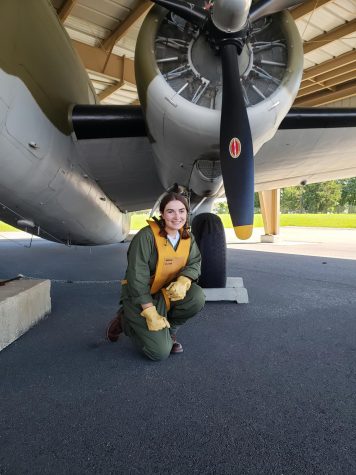 Freshman year, Malone acted in Padua's musical, "Anything Goes," which is actually where she met the other editor, Abby Counihan. After that, she moved over to stage crew at Salesianum Theatre.
"I'm sort of a Crew Mom [at Salesianum] because it's mostly the guys who might do stupid things and I keep them in line. I just really liked working with the actors and the stage crew people, especially during Ragtime," she said.
Malone is also involved in her faith. She is a lector at mass, writes prayers for the daily announcements, and helps lead class retreats.
On top of that, Malone has been dancing for the past 12 years. She takes classes in tap, jazz, ballet, and lyrical and also assistant teaches the younger kids' classes.
Over the summer, Malone spent much of her time volunteering at the Air Mobility Command Museum, a museum about Dover and airlift history. She has always been fascinated by planes, especially since her stepfather works in the Air Force.
"I needed to be here [at the museum] all the time," Malone said. "And before you know it, I was going three times a week," she said.
Inspired by multiple family members who have served in the military, she hopes to one day become an officer in the Air Force, specifically in either flight test engineering or acquisitions and logistics.
"I'm excited to serve my country while also pursuing a STEM career," said Malone. "There's something I love about the opportunity to put on the uniform and work in that military environment."
About the Contributors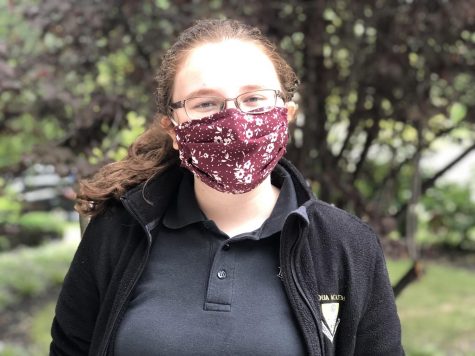 Abigail C. '21, Editor-in-Chief
Meet Abby, one of the editors-in-chief of Padua 360. She is a senior who loves show tunes, volunteering, "Criminal Minds", and reading. Abby took the...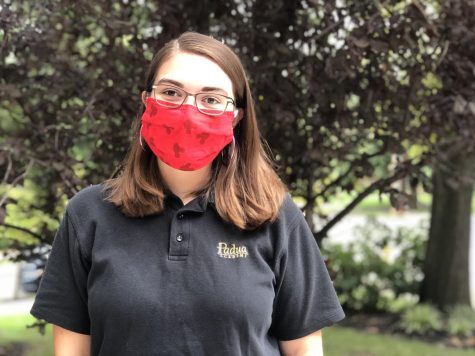 Emily M. '22, Editor-in-Chief
Emily is a Junior at Padua Academy. She took Journalism as a Freshman and is back to be Padua's youngest editor-in-chief! As a writer, she won two awards...