Padua Theater Banquet
On May 1, 2021, Padua Theater held a banquet filled with singing, surprises, and socialization.
The event was held in lieu of the traditional winter musical, which couldn't be performed due to COVID restrictions. Instead, a small gathering similar to the traditional Spaghetti Dinner took place.
This year's event was spearheaded by Junior Producers Clare Yeatman and Sam Tuschinski, Senior Producers Lexi Hall and Abby Counihan, and Mr. Sheehan, the Director of Innovation and Special Programs.
To keep the cast safe, there were numerous protocols in place. Tables were spaced out and capacity was limited at each table. Food had to be individually packaged or it could not be served. Masks had to be worn at all times, even when singing. Also, the students from Salesianum and Cab Calloway who normally participate as well as outside directors could not attend due to Padua COVID regulations. Despite the guidelines, a fun time was held by all.
Clare Yeatman was one of two Junior Producers this year. She was devastated when she found out there would be no musical this year.
"When everything happened last year, I knew there was a chance it would affect Padua Theater for this year, but I did not want to believe it. When I found out we were not doing a show, I was really upset. Everyone lost opportunities due to COVID – it was rough all around – the theater was no exception," Yeatman said.
Yeatman knew that there had to be something theater related this school year, but figuring out how was the hard part.
"Last year at the end of Mamma Mia, Moira Gervay [Class of 2020] told us to never stop fighting for this program, and never stop putting everything we have into it. I thought about that advice a lot when making this decision. I was very grateful that Padua felt the same way," said Yeatman.
Mr. Sheehan, who was the faculty advisor for this event, agreed with Yeatman and added, "It provides a platform to grow things like resiliency, courage, adaptability, and humor. These were all skills that helped us all get through the worst parts of the pandemic. Making sure that there was something for the students then was really important to me."
The planning for the event started in mid-October.
"I reached out to Dr. McClory…She connected me to Mr. Sheehan, I reached out to Sam Tuschinski who was more than willing to help get something together, and we started working the next day. We worked all the way up to the day of the event," Yeatman said.
Both Sheehan and Yeatman were incredibly happy with the event.
"I know I was nervous at times wondering if we would be able to pull it off, if people would actually want to show up, [and] if people would enjoy themselves, but at the end of the day, I could not be happier with the results. Obviously, I would have rather us put on a proper show, but I am really happy with how everything turned out given the circumstances we were working under," Yeatman said.
"Turnout was great, and I think everyone had fun," Sheehan added.
Yeatman said that she hopes that an event in these circumstances won't happen again, but would not mind incorporating some form of this event in the future.
"I certainly would not mind incorporating some of the aspects of this event into Padua Theater's annual Spaghetti Dinner… personally I would have liked to invite more people, but we did have to be mindful of how many people we could have in attendance due to COVID" Yeatman said.
Yeatman's takeaway from this event is all about the community that Padua Theater created.
"It is a community of people who are supportive, passionate, and all-around some of the most genuinely wonderful people I have ever had the pleasure of knowing," she said. "When we first came up with this idea to present to prior members of the program, I was nervous that people might not be into the idea, and might not want to come back because we can not do a 'real' show, but after every conversation I had the consensus was always, 'We don't care what we do, as long as we do something together.' I think that sums up this year, and this program, and I could not be happier to be a part of it."
In a year full of confusion and uncertainty, having a place to express student's true selves was crucial, and that is what a community like Padua Theater offers.
"It is crucially important that schools create spaces for students to do what they love" said. Sheehan
About the Writer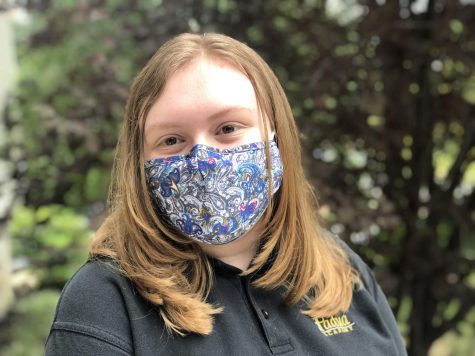 Emily H. '23, Staff
Emily Hoard is a Sophomore at Padua Academy. She was born on October 29th, 2004, in Wilmington, Delaware. 

Emily is an only child and does not have...