From Flex to AST: How Study Time Has Changed
Juniors and seniors knew the designated open period as Flex, but that time has now become Academic Support Time, or AST. The change in the schedule first took place during the second semester last year so that students can study, do homework, or meet with teachers for help. The period is different from Flex because it is devoted to academics rather than being a free period.
Mrs. Fundakowski, the vice principal, said she understood that at the start of the year it was unrealistic to think that students would fully embrace AST. Fundakowski knows that underclassmen are not used to going to teachers and asking questions.
"I do hope that slowly [students] are starting to make good use of [AST]," Fundakowski said.
Fundakowski explained the benefits of AST compared to Flex. She found that students were doing their for classes that day during Flex, while AST allows students to prepare for the next day.
"[AST] is an opportunity for students to really think in the future, rather than just in the moment," she said.
Fundakowski said she pushes students that need help to take AST very seriously. She makes sure that struggling students are meeting with teachers and working effectively. In the end, Fundakowski said she loves the idea of AST and wants students to understand the significance of that time.
"I believe that there are more [students] making use of this time than not and I hope that they will grasp the importance of AST," Fundakowski said.
Freshman Maria Martinez said she finds AST to be a very useful time. She not only works on her homework but also has time to chat with friends.
"I feel I complete majority of my assignments during AST," Martinez said.
Martinez said she notices that some students take AST for granted. She feels that many students only hang out with friends instead of taking advantage of the time given.
"Some girls hang out with friends during AST and that is not what that time should be used for," Martinez said.
Martinez goes to her teachers for advice when needed and said she finds that very helpful. She appreciates the time given for work because of her busy schedule and said that AST gives her the opportunity to complete work and feel prepared for the next day.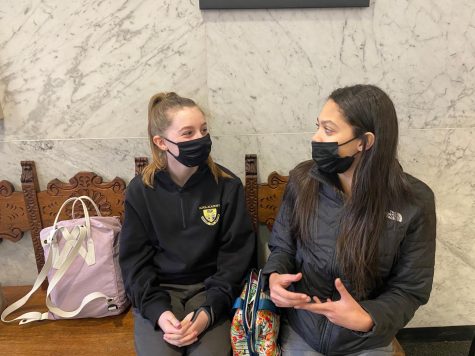 "I think we should all love AST because it is the best time of the day," Martinez said.
Senior Katie Dorsey said she takes her AST time very seriously. She usually goes to the Learning Commons and gets the majority of her homework done. Dorsey will talk to teachers and get help when needed.
"I mostly focus on the assignments that would require teacher help in case it's necessary," Dorsey said.
Although Dorsey said she finds AST useful, she explained that Flex was more productive for her. She appreciated the longer period of time with more freedom to complete tasks. Flex was not only devoted time to seeing teachers, but also time for students to meet with clubs, complete volunteer work, or work on group projects.
"Flex was like an umbrella for anything that could happen outside of class," Dorsey said.
Overall, Dorsey said she values AST and uses this time to complete the majority of her assignments. Even though Flex has been changed to AST, she feels it is a good time for students to talk to a teacher or work independently.
"I think AST is nice because it is a time of day where students can prioritize what work is necessary to get done," Dorsey said.
For teacher and Underclassmen Dean Mrs. Giaquinto, AST is a meaningful end to the day. She said it gives her time to decompress.
"I feel like [AST] is a little bit of a breather at the end of the day," Giaquinto said.
The schedule was changed for many reasons, including how student athletes often missed classes at the end of the day because Flex had pushed them later.
"More than half of students are student athletes and they were leaving last period early," Giaquinto said.
While Giaquinto said the upperclassmen are more tuned into their academics and are spending their time wiser, she found that the underclassmen do not quite grasp the importance of AST. Giaquinto explained how teachers are continually trying to show how important and beneficial AST can be.
"I think AST benefits both faculty and students," Giaquinto said. "I just hope as the Underclassmen Dean that the underclassmen can really start to see the benefit and take advantage."
About the Contributor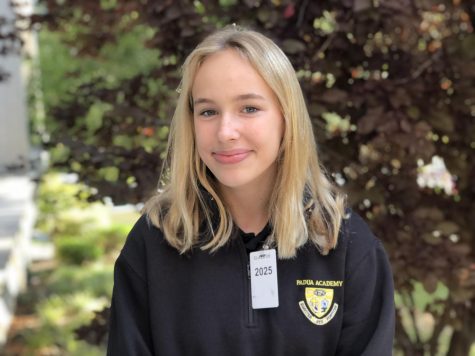 Sophia M. '25, Reporter
Sophia Mattei is a freshman this year at Padua Academy. Her favorite part about Padua so far is the sisterhood and close bond between the students.

"On...