Evolution of the iPhone
From their first iPhone in 2007 to the latest iPhone 12 in 2020, Apple has proven to be the company to beat when it comes to changed and defined smartphones. For the past 13 years, Apple's iPhones, like that iPhone Xr Refurbished, continued to evolve. The technology used to make these smartphones increased the stakes for competing companies.
In just 13 years, 20 iPhones were created. With each new smartphone, the technology and softwares used became more advanced. Apple's CEO, Steve Jobs, unveiled the first iPhone in 2007. It was known as the iPhone 1 and had both a 4GB model, starting at $499.00, and a 8GB model, starting at $599.00. The iPhone was an invention Jobs was waiting for ever since Apple came out with the iPod in 2001.
"This [was] a day I've been looking forward to for two and a half years," Jobs said in 2007. "Every once in a while a revolutionary product comes along that changes everything."
Jobs died on October 5, 2011, but his legacy continued. With five iPhones already on the market, Apple came out with the iPhone 5 just a year after Jobs's death and the 5S close behind. The iPhone 5 accounted for 143.4 million unit sales, and the iPhone 5S recorded 163.7 million unit sales. These were Apple's top sellers until the release of the faster iPhone 6 and the larger 6 Plus.
According to Apple, In 2014, the iPhone 6 models broke sales records. There were roughly 222.4 million units of iPhone 6 models sold. They had a faster network, more storage, good camera quality, new video features, and a larger display. It was an iconic design that gave competing companies a run for their money.
In 2017, Apple dropped the iPhone X. This smartphone had never-before-seen technology. It delivered an innovative and secure new way for users to unlock their phone, known as Face ID. Customers could simply look at the front camera in order to unlock their phone. The X was also the first Apple smartphone without a home button. The entire front of the phone was a screen.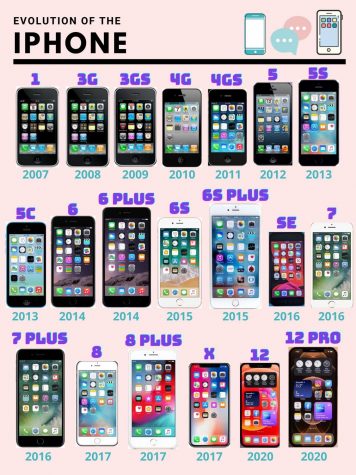 "For more than a decade, our intention has been to create an iPhone that is all display," chief design officer Jony Ive said. "The iPhone X is the realization of that vision.With the introduction of the iPhone ten years ago, we revolutionized the mobile phone with Multi-Touch. iPhone X marks a new era for iPhone — one in which the device disappears into the experience."
2020 was a big year for Apple and iPhone fans. They launched four iPhone 12 models. These included the iPhone 12, iPhone 12 Pro, iPhone 12 Mini, and iPhone 12 Pro Max. They had pro camera features and improved display qualities. The 12 and 12 Pro models had strong enough sales during their October 23 launch that they became the first and second best-selling 5G phone models worldwide.
"I got the iPhone 12 when it first came out," senior Sydney Kwiatkowski said. "The technology is fast and the camera quality is amazing."
Apple has impressed millions of iPhone fans with impressive technology and design advances. With a history of 20 different iPhone designs, Apple is still not finished. Will the iPhone 13 surpass the success of previous iPhones?
About the Contributor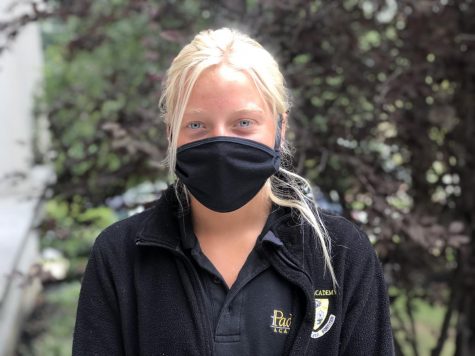 Maddie T. '21, Staff
Maddie Tonn is a Senior at Padua. She was born on January 4, 2003 in Aston, Pennsylvania. She has a half sister named Samantha who is 26 years old and...