Blood Drive Honors Former Athletic Trainer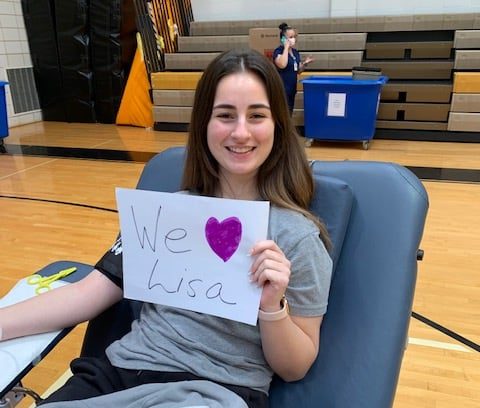 Schools have had a 62% decrease in blood drives since March 2020 which has negatively impacted the amount of blood donated. Padua's former athletic trainer, Lisa Boyer, has leukemia and is in need of blood transfusions regularly. F0r just these two reasons Padua's blood drive has such a large impact in regards to serving the community.
"Every year we partner with the Blood Bank of Delmarva to host our very own blood drive at Padua," Ayanna Shah '22 said. "The blood that is donated on Tuesday will contribute to the blood supply for the Blood Bank of Delmarva which serves 19 hospitals in Delmarva and more than 20,000 patients every year."
Shah, along with the National Honor Society, helped lead the blood drive as a chair of the event. However, her dedication to the blood drive did not stop there.
"I also donated blood, volunteered at the canteen/hydration station during the event, and was in charge of sending out an email for volunteers the day of the blood drive," Shah said.
With all of Shah's hard work and responsibilities, she said she was anxious to see her hard work pay off and be able to make a difference in the local communities.
"I was most excited about the wonderful turnout of donors this year and I was able to give blood this year," Shah said. "Last year the blood drive was just a few days before I turned 17, so I was unable to donate."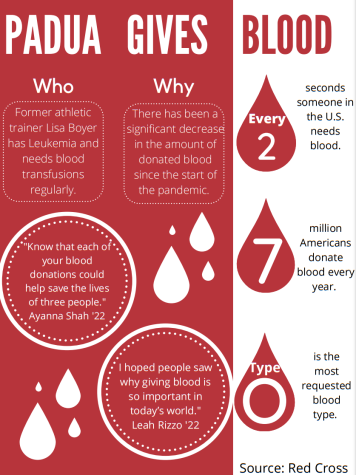 Another member of the NHS with multiple roles throughout the blood drive was Leah Rizzo '22. Rizzo helped set up in the morning, was in charge of organizing food donations coming into school, and donated blood later in the day.
"This is one of the first bigger roles I have had at Padua and I think there is no better event to take leadership in than this one," Rizzo said. "It has been really fun getting involved and talking to a lot of new people."
All the generous food donations went toward the donors after they gave blood to help get their strength back.
"The food donations were insane," Rizzo said. "We had a lot more than we have had in the previous years which was great."
Rizzo mentioned that throughout the blood drive she was most excited to see the community getting together for something important that can make a big impact.
"I hoped people saw why giving blood is so important in today's world," Rizzo said.
Allison Barkasy '23 is a member of NHS and helped to clean-up following the blood drive. Barkasy was excited to volunteer with her friends for a great cause.
"I wanted to volunteer because I wanted to help others," Barkasy said, "and I know it's a great thing to help the blood banks."
About the Contributor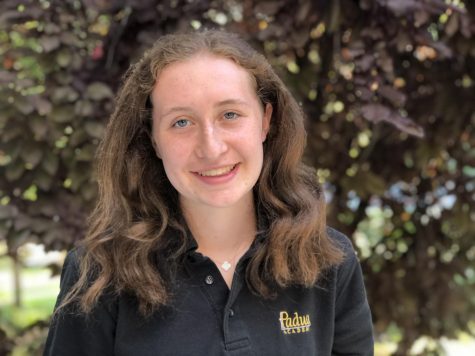 Claire M. '23, Reporter
Claire Merchant is a junior at Padua Academy and a writer for Padua 360.  She went to Saint John the Beloved for middle school, and she said it prepared...