NHS Installation Returns to In-person
National Honor Society inductees lined the hallways as families awaited their entrance into the café for installation. The ceremony recognizes students who have excelled academically and show leadership while also being dedicated to service. On the night of November 18, the community celebrated the achievements of these juniors and seniors in-person for the first time since 2019.
Mrs. Duppel and Dr. Crystle both helped to organize the installation this year.
"Our role was really to coordinate the installation ceremony itself, from readings and prayers and ensuring that all of the students who are going to be inducted understand the importance of the ceremony and the symbolism behind some of the candles that we light," Crystle said.
Both said they were very excited about welcoming everyone back into the building, though that came with its own challenges.
"I think the most challenging part for us this year is just the sheer number of people that came together," Crystle said. "Last year due to COVID the installation ceremony was virtual so this year we were excited to have it in person, but we had over 300 people who RSVPed."
A tradition that continued this year was the NHS alumni speaker, Katie Carrol '09.
"So each year we invite an alumni who was also a member of NHS, while they were here, to talk about the four components of the NHS in terms of leadership, service, scholarship, and character and talk about how that continues to influence them today in the work that they're currently doing," Duppel said.
While there are many significant parts of the installation, Dr. Crystle said she was most excited to celebrate the students' accomplishments.
"I'm most looking forward to having a chance to be together with the students and their families and really just seeing the students' accomplishments and having their families there to support them and show how proud they are," Crystle said.
Another major aspect of the installation is having four current members speak about the each major pillar of the National Honor Society. Maggie Morris '22 was chosen to be one of the speakers.
"I am speaking about leadership," Morris said. "I am not fully sure what else I am doing, because I did not have an installation ceremony due to COVID, but I am eager to experience this."
Morris said she was enthusiastic to welcome the new members of the NHS.
"I am most looking forward to inducting new members," Morris said. "During the run-through, it was nice to see many new faces and the energy that they brought. I am excited to see the passion that they have for our four pillars."
About the Contributor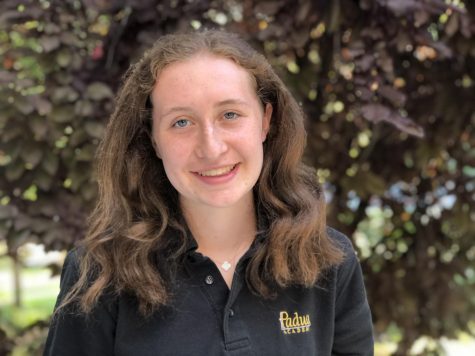 Claire M. '23, Reporter
Claire Merchant is a junior at Padua Academy and a writer for Padua 360.  She went to Saint John the Beloved for middle school, and she said it prepared...