Blue Gold Presents Claus for a Cause Fundraiser
At the start of the Christmas season, faculty members volunteered to dress up as Santa and Mrs. Claus. In the Claus for a Cause fundraiser, run by Blue Gold, students purchase tickets to vote on which staff member they would like to see dress up. Whoever gets chosen as Santa and Mrs. Claus will record a holiday message for the community. The proceeds benefit the Delaware Down Syndrome Association and supports people with disabilities.
Dr. Crystle, the director of the Learning Commons, said that students are primarily responsible for promoting this event as well as purchasing the tickets.
"I'm in charge of getting word out, recruiting staff volunteers, and sending money to donate," Crystle said.
Crystle explained that this event raises awareness about Blue Gold's mission and other organizations. This was the second time the club ran the event, and last year was more of an "inaugural time."
One challenge was getting people to buy tickets and vote for faculty.
"Because of COVID restrictions, tickets were sold online, so students had to really plan ahead and buy tickets in advance," Crystle said.
Mrs. Pugliese, who is a part of Blue Gold, agreed that the most challenging part of the event was encouraging people to buy tickets ahead of time.
"We're not allowed to do anything where money is passed back and forth with people," Pugliese said.
Pugliese said that this event is meant to spread Christmas cheer, while giving students and teachers something fun to do as the holiday season approaches.
The teachers running for Santa Claus are Dr. Bozanic, Mr. Lang, and Mr. Cross. The options for Mrs. Claus are Mrs. Giaquinto, Miss Bonvetti, Mrs. Kilmon, Mrs. Vintigni, Mrs. Carrington, and Mrs. Bell.
Kimmy Smith, a board leader for Blue Gold, said the fundraiser is a fun way to have the entire community involved. Everyone is able to participate, but the members of Blue Gold benefit from it.
"It benefits the children and families who are a part of the Special Olympics," Smith said, "that are held by the Down Syndrome Association."
About the Contributor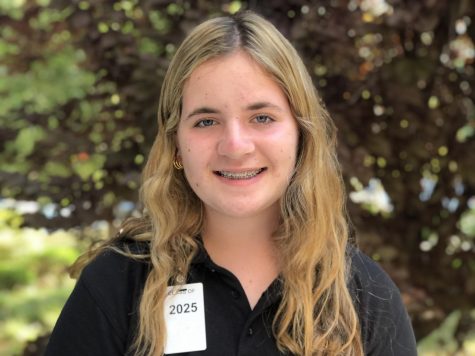 Madison M. '25, Reporter
Madison Mutschler is a Padua freshman this year who previously attended Immaculate Heart of Mary. She lives in Wilmington, Delaware, and is a reporter...