Salesianum Theater to Perform Play During Pandemic
This year, fall traditions such as homecoming, football games and many others have been cancelled due to the coronavirus pandemic. However, Aaron Bogad, director of Salesianum School Theater, is determined to make the best of this unusual school year and try to continue as normal as possible.
The annual Salesianum School Theater (SST) fall production is still happening this year. The show is "The Incident at Vichy" by Arthur Miller. The play is about how "othering" and alienation divides a culture. It conveys how those personal actions bore significant responsibility for the rise of fascism in Europe and allowed for the perpetration of the Holocaust.
"SST has intentionally engaged in hard conversations about race, gender, culture, and identity," said Bogad. "In [an] election year where no matter what happens with the election, about half the country is going to angry, it seemed like a good time to talk about how we all view our 'thems' or our 'others.'"
With a topic as important as this one, SST knew they had to put on this production. However, there were many new difficulties of putting on this production versus prior ones, such as minimal face-to-face rehearsal time, reduced crew numbers, and not being able to allow Padua or Ursuline students to participate in-person.
Despite all this, SST has persevered and implemented safety procedures to help minimize the health risks. Some precautions include wearing masks, frequent hand sanitation, and following social distancing protocols.
Bogad said that they are taking things one step at a time. He made clear that they are used to this in the theatre and that solving problems along the way in production is what they do every time.
"The problems being presented are no more or less difficult than the problems presented during 'Ragtime' or 'Les Miserables,'" said Bogad. "They're different, for sure, but not harder."
Although the pandemic has made this an uncertain time, Bogad and SST are preparing to continue as close to usual as possible. Bogad said he is not sure what will happen with the upcoming winter production, but he is deeply hopeful.
"We are here to engage in a process that is valuable for our participants and impactful for our community, and we find a way to preserve those ideals through whatever the problem is," said Bogad. "Frankly, you overcome by overcoming."
About the Writer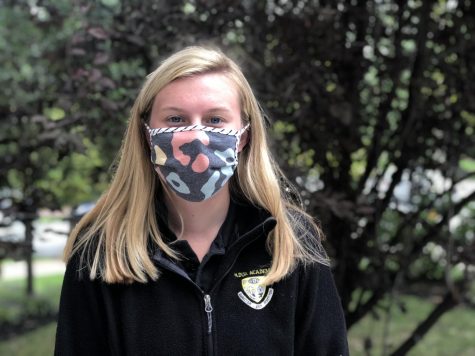 Erin R. '21, Staff
Erin Ritchie is a senior at Padua Academy this year. She enjoys working in stage crew for Salesianum Theatre in her free time and this past year, Erin...