French Teachers Invite Students to Celebrate and Create Art
Mrs. Boyle and Mrs. Burris一Madame to their French students一organized the "painting party" with the Language Department as part of the French Week celebrations. Students gathered in the café on Wednesday to paint the afternoon away in a casual setting.
"Every year during French Week it's fun to highlight art because that's one of the things everyone associates with France and French culture," Boyle said.
The department invited students to color and paint tiny canvases as a group, even those not enrolled in French or art classes. Boyle felt excited to see them express their creativity and showcase their artistic talents in a relaxed environment.
"It's fun to give the students and faculty a chance to be creative in sort of an unstructured way," she said.
Boyle has a great appreciation for France and its art. The students impressed her with their ability to excel in recreating French works.
"There are people who are very good at both," Boyle said. "The most important thing is to just try and you'll improve and have fun while you're doing it."
Sophomore Megan Boehmler, a French 2 student, decided to join the group even though she is not artistically inclined. She attempted to use pointillism, a technique popularized by French artist Georges Seurat.
"I'm really not that good at art," Boehmler said, "but I'm the kind of person that, like, even though I'm really not good at it… I want to [submerge] myself in it."
Boehmler has traveled to France and visited some of its "absolutely beautiful" museums. Her admiration of French art served as inspiration for her piece, a portrait of the Eiffel Tower.
"I really do like French art [and] I like France in general," Boehmler said. "It's a really pretty country."
Boehmler enjoyed having the opportunity to replicate iconic French artwork with others. She noticed how welcoming the teachers were toward the students who participated.
"I think it's really, really nice that… the French teachers did this for everybody," she said. "I'm really excited to see how my painting turns out."
Linda Walsh, a junior in French 2, chose to partake because she loves art in many of its forms, including the visual arts and theatre.
"I think that expressing yourself without words… is really beautiful," she said.
Walsh is also a modern art enthusiast despite the amount of criticism the genre receives. Although others may not have the same appreciation for modern art, she values its beauty and significance.
"I think that there is a certain type of talent to be said about… putting a meaning to, like, a white canvas," Walsh said.
By combining many colors on her own blank canvas during the event, she created a unique piece of art. Walsh felt happy to put together artwork that was small but special.
"It's simple, but it's also really complicated to… make that meaningful and beautiful," she said. "If you have a painting with colors on it, like, you can see how it's beautiful."
About the Contributors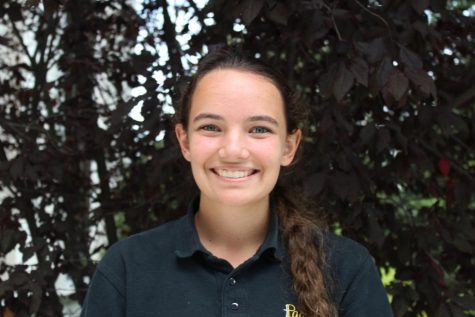 Maddy H. '21, Reporter
Maddy is a sophomore at Padua Academy. She was born on September 30, 2002. For middle school, she went to Immaculate Conception School in Elkton, Maryland....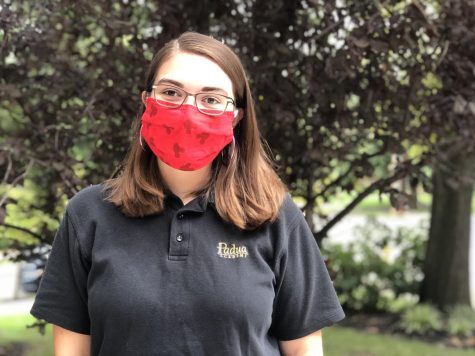 Emily M. '22, Editor-in-Chief
Emily is a Junior at Padua Academy. She took Journalism as a Freshman and is back to be Padua's youngest editor-in-chief! As a writer, she won two awards...