Producing Movies During a Pandemic
The pandemic has taken a toll on almost every industry. But there was one industry that was hit especially hard: the film industry.
Eduardo Garcia is a film producer in Los Angeles. He was inspired to join the film industry during one of his high school social studies classes.
" I remember my teacher showing the class a video he had made on Windows Movie Maker. I thought it was incredible and from that moment forward I tried to make videos for all my big school projects," said Garcia.
Garcia has worked on multiple feature films, such as "Ad Astra" and "Godzilla vs. Kong", and will be traveling to London to work on "Captain Marvel 2," which will be released in late 2022.
Garcia initially thought that the virus would stay contained in China. "The virus spreading so quickly to other countries is not something I could have imagined – especially not to the United States," said Garcia.
"I have a colleague that had a friend who attended a global scientific conference in San Francisco to discuss the projections on how bad the pandemic would get," said Garcia. "Once Los Angeles was mandated to lock down, I knew that it would take several months to return to normalcy."
Luckily, Garcia was able to work from home. "The movie I was working on was already filmed. We were in the editing and visual effects phase and everything was able to continue remotely," he said.
Garcia is not able to return to set in-person, but was offered another job to work at-home until he is fully vaccinated.
"I think that the film industry has also discovered that it is possible to work from home," he said. " We use secure portals through the internet called a VPN to access the media from the facility that holds all of the movie files. This way, we can access all of the clips without actually having them on your own computer."
However, Garcia believes that this will not be a permanent change once the pandemic ends.
Traci Duran is an editor who has worked on films with Garcia. She said that her father influenced her love of films.
"My father was always a huge fan of films. When I was younger, he would make me watch a black and white film every week with him, and we really bonded over our shared love for movies," she said.
Duran has worked on some movies like "Ad Astra" and "Beautiful Boy", but her favorite film she worked on was "Lost River", directed by Ryan Gosling.
Duran's initial reaction to the pandemic was like most others. "It started out being something that you thought would never reach your circle, your family, your life, so I was able to read the headlines and still distance myself from it. It sounded terribly scary & unfortunate, but it also at first seemed so far away," Duran said.
Duran, who is from the US, was in the process of shooting a film in Vancouver when the pandemic struck. "That was a huge moment. There was a second where we thought we could possibly wait it out in Canada for a few weeks, but that obviously wasn't an option in the end," Duran said.
What got Duran through the pandemic was all of the long distance zooms with friends and family that came up. "That definitely kept things exciting and helped me stay in touch with friends and family," she said.
According to Duran, the protocols in place are different in Vancouver versus Los Angeles. "When we arrived, we had to fill out a questionnaire about symptoms, as well as have our temperature taken before we could enter. We would always wear masks and we weren't allowed to get too close to others. All of our snacks/drinks were easily split up so there wouldn't be any sharing & only one person at a time was allowed in the common areas," she said.
Duran's perspective has changed…"Mainly [by] realizing that something like this could truly & catastrophically affect our world, and we all have to individually find a way through that… it's obviously made me realize how great of an option it is to be able to work from home, which is something I hope to incorporate in the future" she said.
Eduardo Garcia agreed, adding that the pandemic has shown him how valuable time is in Los Angeles.
"Many of us spend hours in the car fighting traffic. That all went away when I started working from home," he said. " I found myself cooking more and finding extra time to do things outside of work hours. Having this extra time has made me think of my time as a valuable asset. This could mean turning down a future job that requires too many work hours or too long of a commute."
Many industries haven't been able to in person work at all, but as Duran said, "I'm very thankful for full employment during this crazy time".
About the Contributor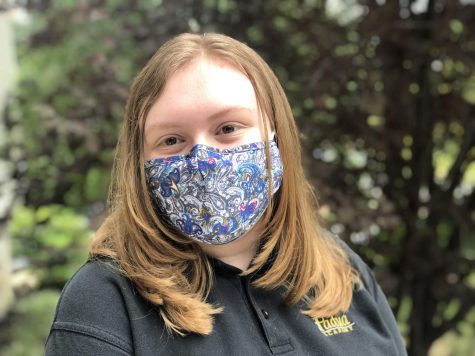 Emily H. '23, Staff
Emily Hoard is a Sophomore at Padua Academy. She was born on October 29th, 2004, in Wilmington, Delaware. 

Emily is an only child and does not have...