Firefly – The Alternative Rock Music Festival
Hang on for a minute...we're trying to find some more stories you might like.
Everyone is familiar with the popular alternative rock music festival, Firefly, held at Dover Downs in Dover, Delaware. People travel from up and down the entire east coast to see their favorite rock bands for five days, as well as participate in other activities including, camping, eating good food, meeting new people and having the time of their lives. The festival was intended to cater to people of all ages, as past performances have ranged from classic rock, like Paul McCartney, to contemporary alternative rock bands like Cage the Elephant, Arctic Monkeys and many others. Firefly Music Festival has continued to grow rapidly in both its attendance and band selection each year.
When Firefly began in 2012, it was a festival intended for the fan base surrounding alternative rock music, considering the first bands that were booked were The Black Keys and The Killers. The director, Greg Bostrom, the CEOs, Ryan Kunkel, Joe Reynolds (Founder and CEO), Stephanie Mezzano, Michael Coco (Operations Director), Sarah Mcgrath (Customer Experience Director), and many others who helped start Firefly were looking to commence a festival where it was all about the music and the experience. However, after the first few years of firefly, the demographic and overall experience of Firefly shifted.
The first few years consisted of solely alternative rock and indie pop/folk bands. People of all ages would come to enjoy the music and intimacy of the festival. It was a time to be away from all the stresses of life to just have fun. Firefly still remains to be a fantastic experience for people, but it has changed. As the festival grows rapidly each year, it is apparent that it's become significantly more commercialized. Rap artists have been slowly integrated within past years to speak to a younger demographic in order to sell more tickets. While success of the festival is important, it should stick to the original genre intended, alternative rock, as there are other festivals that cater to the rap music demographic such as: Made In America Music Festival, held just a few months after Firefly. Some bands that have been integrated within the last couple of festivals have been A$ap Rocky (2016), Snoop Dogg (2015), and Kendrick Lamar and Eminem (2018). While they aid in Firefly becoming more well-known, the demographic shifts the entire experience in that it becomes less about the music and more about going because "everyone else is doing it." The point of a smaller intimate festival is to introduce oneself to new art and Firefly does not seem to be fulfilling that. Because of this, Firefly should be reducing the amount of non-alternative rock artists and bands in the lineup because the experience has strayed from its original intent, the music.

About the Writer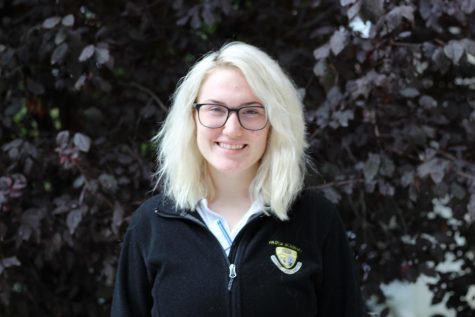 Chrissy M. '18, Reporter
What grade are you in?

I'm a senior at Padua.

What is your favorite food?

My favorite food is filet mignon, I only eat the steak my dad...