The Last Community Homeroom of the Year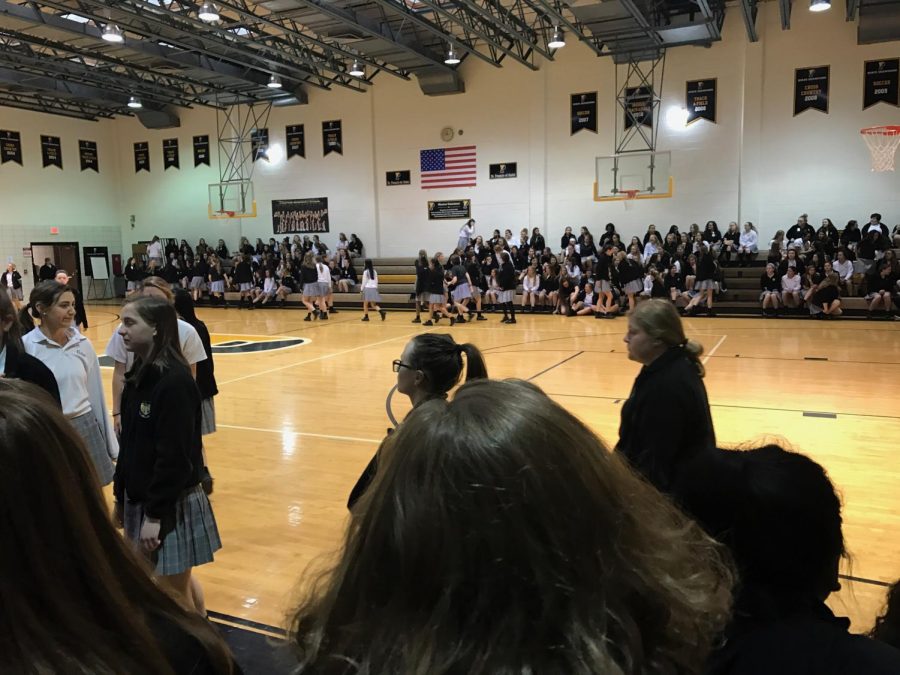 On April 25th, students and faculty gathered in the gym for the final community homeroom of the year. Mrs. Vavala opened with prayer for the Feast of St. Mark, emphasizing the importance of giving people second chances and being there for one another. She also encouraged students to attend the "Evening of the Arts" on Friday night, emphasizing that "a number of Padua sisters will be showing their talents."
Salsthon raised a total of $173,148.87 for CHILD, Inc., Student Council announced. "We're here to thank you and recognize the work that all of you do," said the executive director of CHILD, Inc. The money raised allows the charity to further aid victims of domestic violence. "When you leave Padua Academy," he said, "Wherever you go in life, whatever you do, I know you will understand the importance of helping others." A plaque commemorating the money raised will be displayed in Padua in appreciation.
The topic then shifted to group and individual student accomplishments. Ms. Scarpone recognized the six students who participated in Math League, and Mr. Sheehan stressed the successes of the Ronald's Rescue leaders, who helped to coordinate the cornhole tournament and fundraiser. History Day winners were also recognized, with special recognition given to first and second place winners who may go on to compete at the national level.
Sophia Riveros, a senior, was recognized for her participation in the Delaware Photographic Society contest, and her win in the Clean Waterways art contest, as well as two students who achieved honorable mentions. Also in the arts, those who won awards in the 2018 Scholastic Art Awards contest were announced, notably Emily Torres and Sophia Riveros, who achieved Gold Key awards.
Mrs. Kowalski then recognized those students who participated in Moody's Math Challenge, a 14 hour competition in which students worked to come up with solutions to the food waste problem. The robotics team was also recognized for their achievements. Ms. Campbell presented students with the Ambassador Award for outstanding service, requiring 100 hours across 12 activities.
Ms. DiSabatino addressed athletic recognition with the Gatorade Player of the Year awards. Two seniors received the award this year, and their banners will be displayed in the gym for years to come. Emily Jerome was presented with the award for her dedication to volleyball. "Her intensity on and off the court has created an atmosphere of determination and hard work," said Ms. DiSabatino. Lydia Olivere was also presented with the prestigious recognition her cross country and indoor track. She was the state's most valuable runner all four years of high school.
Mr. Sheehan then announced the finalists for the APS activity by leader: Dr. Bozanic, Mrs. Manelski, Ms. Brown, Mrs. G, and Ms. Scarpone and Mrs. Alinda. Finally, Ms. Scarpone announced the Sparkle Award winners. Two students won the award, along with Mrs. Markham, who was described as "supportive, kind-hearted, and patient."
The assembly closed with Mrs. Mann asking students to remember and pray for Father Nick and his family "as we celebrate his life today, in the funeral tonight, and in the internment tomorrow."
About the Contributor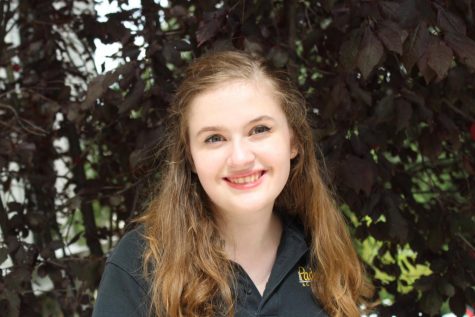 Stella W. '19, Editor-in-Chief
Stella White is a senior at Padua Academy. Born in Delaware, with a wonderful British accent, Stella has spent a lot of her life growing up in England....