Editor-in-Chief Stella White Named Journalist of the Year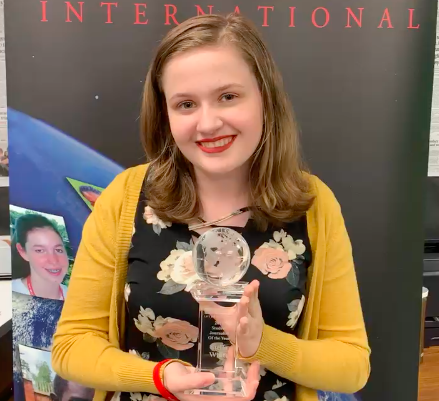 It was a seemingly normal afternoon in the Multimedia Journalism class on May 2 until Jackie Majerus walked into the room, along with Dr. McClory and Mr. Beno. Majerus soon introduced herself to the student reporters as the co-founder of Youth Journalism International, an organization that allows young news writers from around to world to share their stories.
She was pleased to announce that Padua 360's editor-in-chief, Stella White, had been chosen by a panel of judges as the organization's student journalist of the year. The media room erupted into applause as White accepted her award, and Majerus spoke about why she was selected to receive it.
"The very top prize in our contest is for Student Journalist of the Year, and that is the award that Stella won," Majerus said.
Youth Journalism International officially announced the winners of their 2019 contest on May 3, which is World Press Freedom Day. Majerus shared some of the twenty-four judges' comments about White and her contributions to journalism.
"What sets Stella White apart is her drive and determination to turn the online student newspaper of Padua Academy and Delaware into something stellar," the judges wrote. "White's talents, though, go beyond her skill as an editor to include some fine writing from a journalist with heart."
"
She has elevated our staff to levels that [I] didn't think possible."
— Mr. Leizear
The panel of judges also mentioned some of her individual pieces and recognized her powerful and intriguing writing style.
"Read her solid story about a junior telling about her life as an adopted child," they wrote. "Consider her piece about a local reaction to the terrible shooting at a synagogue and you'll see how she blends her family's experience with what she heard, as well as the crime that had just occurred in Pittsburgh."
Mr. Leizear, head of the Padua Media Group and journalism teacher, contributed additional thoughts to the statement from Youth Journalism International. He said that many of the improvements in Padua 360 were made almost "single-handedly" by White.
"She has elevated our staff to levels that [I] didn't think possible, including redesigning the website and working with peers on their stories," said Leizear, who hadn't even told White she had been entered into the contest.
Majerus said that she believes White is a "great leader" in the journalism class as editor-in-chief. She was very excited to present the prestigious award to White in person and hopes that she continues her success in the future.
"We've never had a trophy winner from Delaware," Majerus said. "You totally wowed [the judges], and we're really proud of you."
About the Contributor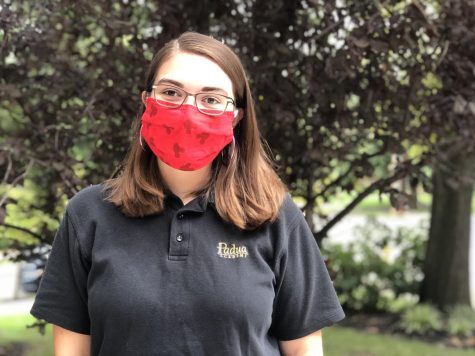 Emily M. '22, Editor-in-Chief
Emily is a Junior at Padua Academy. She took Journalism as a Freshman and is back to be Padua's youngest editor-in-chief! As a writer, she won two awards...