Famine
Hang on for a minute...we're trying to find some more stories you might like.
While going 24 hours without food may sound impossible to some, many brave students at Padua choose to participate in this Lenten tradition. Mrs. Vavala, the leader and founder of Famine explains, "We focus on fasting, giving, and praying during Lent, and Famine is really a way to do all three." Students arrive at Padua and begin the day at 8:15 without food. The hunger really hits around lunch time as participants must sit in the cafeteria and watch all their friends eat. Sophomore Ursula Dzik says, "There was a lot of hunger pangs, but my friends and prayer really helped me through it".
Participants spend the night at Padua, trying to take their minds off how hungry they are. Students play games and do activities that help keep them focused on the purpose of Famine, praising God and helping the hungry. Mrs. Vavala believes one of the most meaningful activities was one that involved taking all the garbage collected at Padua in one day and spreading it out across tables. The girls then sorted all the food the was still edible, some even unopened and reveled in all the waste Padua accumulates. In the second activity, girls walked down to Acme and experienced what is was like trying to buy a week's worth of food on the budget of someone with limited funds.
The night is filled with moving discussions, filled with intense topics. Some of the discussions have included, "the underground culture of people who dumpster dive to get food and children who go to school hungry." Through participating in Famine, students raise money for Catholic Relief Services which travel to help people all over the world. This includes helping people suffering from hunger. Sophomore Sophia Riveros participated this year and says, "It was truly eye-opening to see how other students responded to the shocking information we learned about world hunger, becoming motivated to use this information to enact change in the Padua community."

About the Writer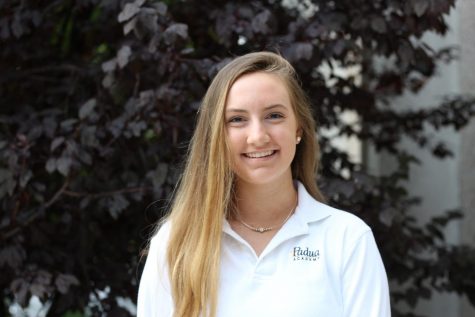 Grace C. '18, Editor
What grade are you in?

12th

What is your favorite food?

A Jim's cheesesteak, wiz with out, with a coke, sitting on the South Street curb.

Why...