Sophomores Begin New Tradition at St. Anthony's
While freshmen have Freshman Convocation and juniors have Junior Ring Mass, sophomores now have a tradition of their own. The White Lily Mass is a new celebration for the sophomores to fill the gap between the other two events. The inaugural Mass, held on October 13, provided a chance for the entire Class of 2024 to gather together at St. Anthony's and say "yes" to using each one of their gifts.
Mrs. Alinda, the head of Campus Ministry, helped to organize the Mass. Alinda said she hoped to begin this tradition as it was recommended by alumnae and will complete the "arc" that Padua follows.
"There is an arc that we follow here," Alinda said. "Freshmen are welcomed into the sisterhood at convocation, then junior year you affirm your gifts and are welcomed into the leadership, and then senior year you are told to use those gifts out in the real world. As you can see we never get to share your gifts, so that is the piece that we are adding in."
During the Mass, each sophomore received a pen with a lily on it. The sophomores used this pen to sign off on their gifts and commit to strengthening their gifts throughout their three remaining years. Alinda said the lily is a significant symbol of St. Anthony, a patron saint of the school.
"One, it symbolizes purity, but also he was sent to the 'Kingdom of the Lilies,' to France," she said. "And he was not expecting to go, so he responded with a 'yes' to where he was being sent, so we're sort of asking sophomores to come into the same mindset of responding with a 'yes' to use the gifts and talents that [sophomores] have."
Two sophomores, Reese Flanagan and Emily McDermond, both attended the White Lily Mass on October 13th.
"My favorite part of the mass was signing our papers and committing our gifts to the school," Flanagan said.
McDermond also said she felt the Mass was a rewarding opportunity. However, she said she wished they could have done more than only write down their gifts.
"It was a very positive experience because the whole sophomore class got to gather together for the first time this school year," McDermond said. "The one thing I would have changed is being able to announce our gifts out loud."
About the Contributor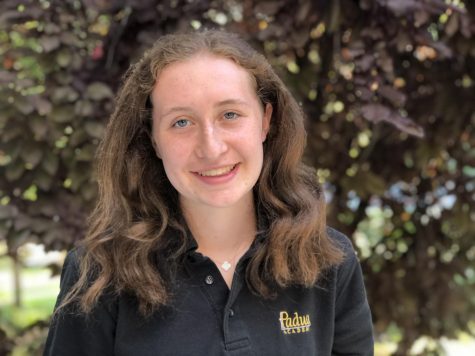 Claire M. '23, Reporter
Claire Merchant is a junior at Padua Academy and a writer for Padua 360.  She went to Saint John the Beloved for middle school, and she said it prepared...