North Korea and South Korea Are Coming Together at the Olympics
The Winter Olympics are nearing, starting on Friday, February 9. There could be a surprise for the viewers regarding South Korea. North Korea and South Korea will be marching in the opening ceremony under the unified flag of Korea. They even decided to join the two women's hockey teams.
The two rival countries met for the first in two years to discuss North Korea's participation in the Winter Games. During this meeting, they came to the agreement to compete as a unified country. South Korean President Moon Jae-in is calling these Games the "Peace Olympics."
This push to improve the relationships between the countries was not universally welcomed. South Korea's women's hockey coach, Sarah Murray thought that the joint hockey team would affect team chemistry and create a difficult situation for her players, since they might not be able to have the same amount of playing time because of the new players from the North. A survey by SBS Televisions showed that 73% opposed a combined hockey team. The two countries are not sharing a hotel and are not having any discussions between the teams before the Games.
The flag they will be marching under consists of a blue silhouette of the Korean peninsula with a white background. This flag has been used before to march together under in the 2006, Winter Games in Turin, Italy.
The response to this has been divided. The only way to find out how this unity will work out is to watch the Games with these two rivaling countries together as one.
About the Contributor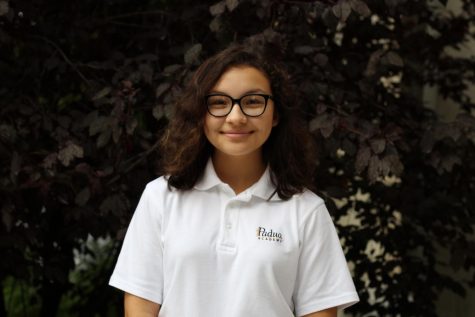 Jennifer C. '21, Reporter
What grade are you in?

I am a freshman at Padua.

What is your favorite food?

My favorite food is pretty much all kinds of sweets and baked...