Junior Class Elections
Ten potential junior class officer candidates, along with the rest of the junior class, gathered in the cafeteria during flex Tuesday, September 13 to deliver their speeches in hopes of snagging one of four spots on student council.
The candidates, Alena Boyer, Gabrielle Cellucci, Kelsey Davis, Gabriela Frabizzio, Anna Gallo, Kayleen Italia, Christina Molloy, Sarah Philbin, Suzannah Snellgrove, and Annmarie Twum-Danso, all had a unique approach to their speeches. Some of the candidates were formal while others went the opposite route and was as relatable as possible to the other juniors. Christina Molloy, Kayleen Italia, and Kelsey Davis, three previous class officers from their sophomore year, are returning this year to run again with hopes of using their previous experience to push further in their student council career. When asked about who inspired her to run again, Kelsey said, "My sister [inspired me] because she was on student council as well."
The results of the elections came at the end of the day; Kelsey Davis, Anna Gallo, Alena Boyer, and Suzannah Snellgrove were the winners. At the end of the day, the presence of their speeches drove them forward. All four winners are prepared to tackle junior year and make it the best year for everyone. The new class officers want the rest of of the juniors to spend the year not worrying too much about their grades and school work and focus more on growing as people and sisters."I want everyone to step out of their comfort zone as I am doing right now," said Suzannah during her speech.
This year the focus on everyone's mind as they delivered their speech was the stress that junior year brings, such as SATs, History Day, and the junior year research paper. All ten candidates spoke about the stress of junior year and how they would try and remedy the issue with better student communication, fun spirit assemblies, and most importantly, junior prom. Prom this year is the highlight of the school year and with it brings fun and excitement for the students who attend, and temporarily relieves the stress of school. Anna Gallo, one the the candidates, said in her speech, that this year is the big turning point of our high school careers and that together we could "make this year the best year we can."
About the Contributor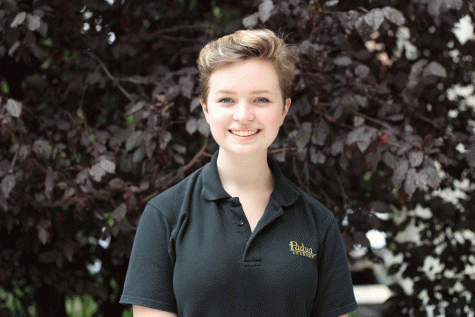 Maddie Z. '18, Graphics Editor
What grade are you in?

I'm a senior at Padua.

What is your favorite food?

My favorite food is my homemade enchiladas.

Favorite music?

...