Fantasy Island
Fantasy Island is a thriller based on the 70's television show where people would fly to an island and their greatest fantasy would become reality. In this movie however, the guest's fantasies become their worst nightmare. The movie stars Lucy Hale, Maggie Q, Michael Pena, Portia Doubleday, Jimmy O. Yang, and Ryan Hansen.
Before going to see this movie I was reading the audience and critic reviews and some of them were skeptical since some were bad and others were good. One reviewer said, "..the story didn't go with a nice flow. This movie had a lot of potential, with the whole horror island thing going on. But they, (the filmmakers) were not able to put it all together easily" , while another reviewer said, "This movie was a horror comedy, and it was a very fun watch! The psychological twists kept me intrigued."
The reviews were shocking since BlumHouse Productions produced the film. They've produced many well rated films such as Lights Out, Happy Death Day, Halloween, and various other movies. I am glad that I chose to go because this movie was an excellent thriller and I greatly disagree with the reviwes.
One of the main things I look for when seeing a thriller is how long the movie takes to get the story moving. This movie moves fast and gets straight to the point and all the action. Although it moved fast, it also wasn't messy and confusing.
I liked the story ine and I thought it was a great spin on the 70's tv show. I liked the idea of the island being in control of the fantasies and not having it be some crazy psycho that would be in the typical thriller. I also loved how they included references from the tv series along with some comedy.
Along with the story line, the acting was also very well executed. The perfect actors were chosen for the perfect. For Lucy Hale, specifically, I thought that this was a very interesting role for her. Her character seemed like a challenging one to portray. I thought she did very well with this role.
When watching thrillers, there's always a twist. Watching the movie I was trying to guess what the twist would be. I was very off and was very surprised. When the characters found out that they were all connected to each other and a part of someone else's fantasy was very creative. And on top of that, the fantasy being Lucy Hale's character, was overall fabulous.
I am very pleased with Fantasy Island. I would go and see it again because it's just that good. I think it's safe to say that BlumHouse Productions makes excellent movies. This has you guessing the entire movie and it keeps you on the edge of your seat. I highly recommend seeing this movie.
About the Writer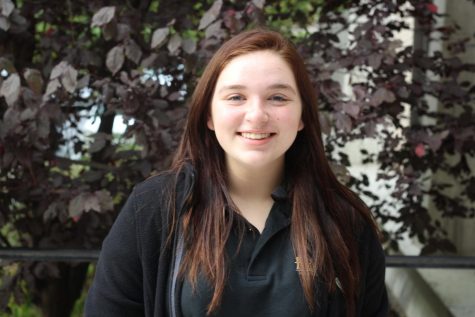 Anya B. '23, Reporter
     Anya is a freshman at Padua Academy. She currently takes Italian and looks forward to Drivers Education and AP classes in the future. One day,...